If you want to craft a website right from start, one of the many stunning options that offer you a great edge in building your website in Adobe Muse. An innovative website builder, Adobe Muse helps to create websites applying drag-and-drop, with no requirement of any code.
What makes Adobe Muse distinctive is it makes available plenty of videos and photographs, can use its drag-and-drop editing functionality, add a countless number of third-party widgets to promote utility and empower users to introduce changes after the site goes live, and also contains an integrated interactive website architecture.
Here we list out for you, some of the finest best-selling Adobe Muse Widgets that are easily configurable can be styled to adapt to the needs of a graphic designer, runs great on mobile devices, and simplifies your life when you use the platform.
Table Of Contents
# Pop-Up Container
This widget can be applied to exhibit a popup window that can be utilized by you to display important information, ads or promotions. The popup window locks the remaining website content until it is shut by the user.
The layout of the pop-up window can be made directly in Muse so that it blends perfectly with your website and appears stunning. You simply need to use the given container as a canvas to generate your Pop-up window design and then fix up different additional options within the widget panel.
You have the option to create the design of your choice for your Pop-up window by positioning images, shapes, text, videos and buttons and various components inside the provided container.
In addition, the Pop-up window gets displayed each time your visitor accesses the page or can be presented after the lapse of a certain duration to the same user. This does not bother your returning visitors. Widget alternatives also permit you to modify different settings like appear or fade away transition effects and overlay colors.
# Magic Cart: Shopping Cart Containing Paypal For Adobe Muse
An interactive widget for building an online store, Magic Cart supports payment through PayPal or sending requests using an Email. Magic Cart supports 20 currency options, can be installed easily, can also dispatch an Email Request, works on mobile devices and contains adaptive design settings. While using PayPal, adding information from the contact form is not possible. In fact, contact form and payment through PayPal need to be located on separate pages.
# Responsive Carousel Slider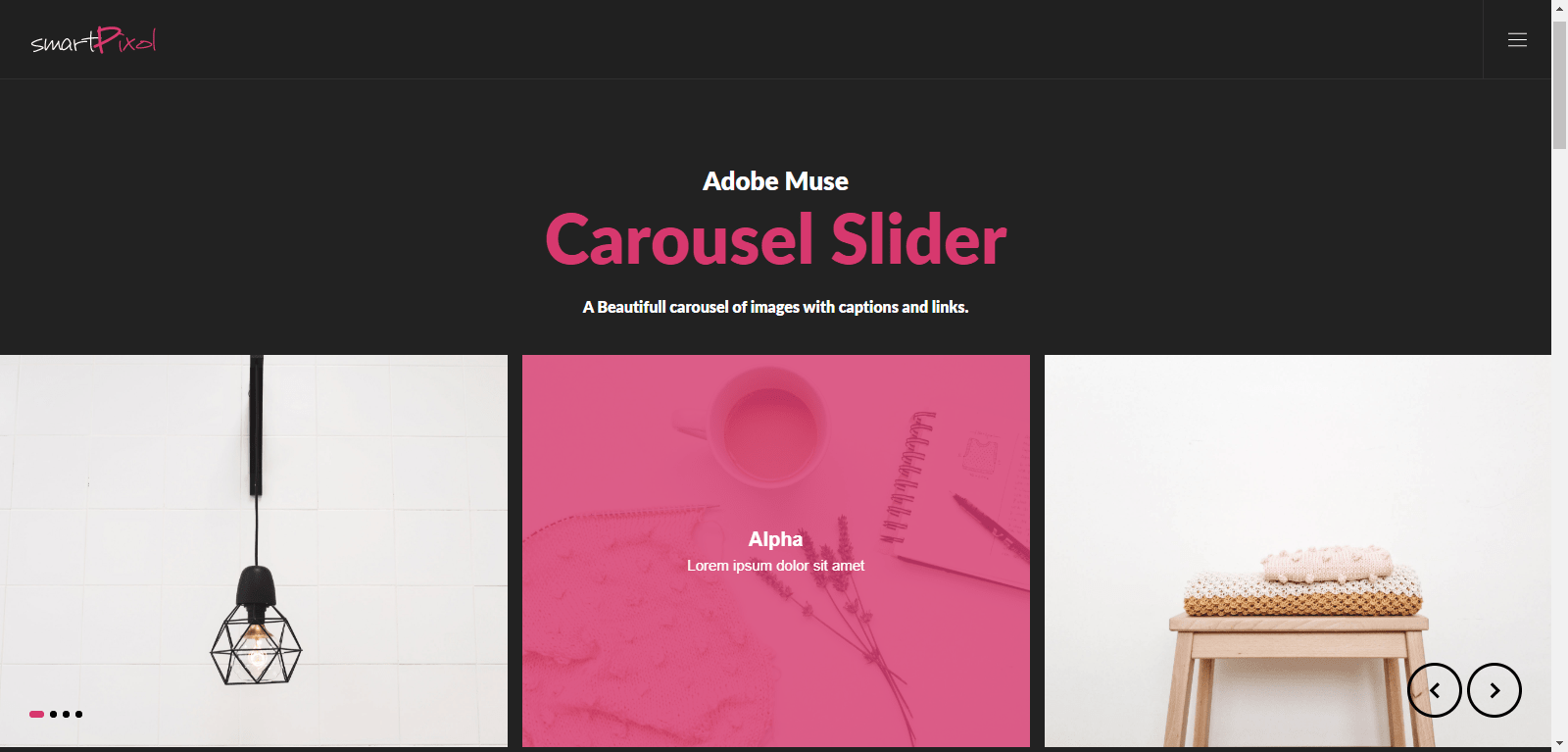 A fully responsive widget that adjusts to all types of device, Responsive Carousel Slider lets you display images in style and also exhibits your team photographs in style by using its carousel mode. You can make transitions from a particular slide to another, add captions for every single image, create image title, image description, activate or turn off local and exterior links, position captions on Image whether vertical or horizontal and zoom the main image after it gets active are some of the main features of this Adobe Muse widget.
Responsive Carousel Slider also offers you full-screen height for better display, tons of animations, buttons, and dots for navigation with regard to big and small screens, 10 slider presets for instant start, and a separate number of images for separate breakpoints.
# 3D – Panorama Pack
Using this widget allows you to add quickly the fast 3D- Panorama or 3D- Tour containing your panoramic photo to the website of Adobe Muse. This pack includes 3D-Panorama Widget, Text Button Widget, Image Button Widget, and JS Connector to optimize the different panoramas on one page.
3D-Panorama offers benefits such as Control Settings, alterations in the textures button, optimal adaptability, multiple panoramas on one page, ease of use. To use the 3-D panorama widget you have to access the Library Panel in Muse. Open the 3D- Panorama pack, click and drag the 3D-Panorama widget on the design canvas. In the panel for widget settings attach all files required from your project assets folder to the widget and fix different settings according to your preference. Preview and publish the page and relish the quick and captivating 3-D Panorama.
# Scrolling Text Adobe Muse Widget
This widget permits you to insert regularly scrolling text into your Adobe Muse sites. Such scrolling can be in any direction – right, left, upwards or downwards. Scrolling Text widget grabs your site visitor's attention, therefore it is effective for important declarations or promotions.
You can enter any type of text inside the widget and customize the size, font, and color of your text. Besides, several options are available to configure the scrolling animation.
To install the widget into Muse you have to download the file and double-click it. Each time you want to apply the widget, just drag and drop it from the Library panel in Muse upon your website.
# Isa Gallery – Gallery Containing Filterable Image
A stunning gallery of images, Isa Gallery lets you display images of your users or site visitors in a vibrant and pleasant manner. It is equipped with a vast range of animations and effects that are completely configurable and also contains an attractive lightbox with extensive effects and animations. Isa Gallery is designed in a modular mode so as to make it completely adaptive to your project design made with adobe muse.
This amazing widget enables you to add countless images, as the image module is created as a different widget that can duplicate as many times as required. Additionally, IsaGallery also contains incredible features that bring modernity and appeal to your website.
Key Features:
24 kinds of animations with regard to hover images
74 animations for the lightbox
13 animation effects for buttons
Uncluttered Code
Countless Items
Ease of Use
Quick Installation
Filters images by category and contains the animation effect
Automatic Font Size
Automatic adaptation of the text to the image size
Dynamic tool-tip that reveals the number of active images in every category
Completely customizable design and unlimited colors
Interactive and Responsive
Preloading Images
# Tube: Responsive Video Widget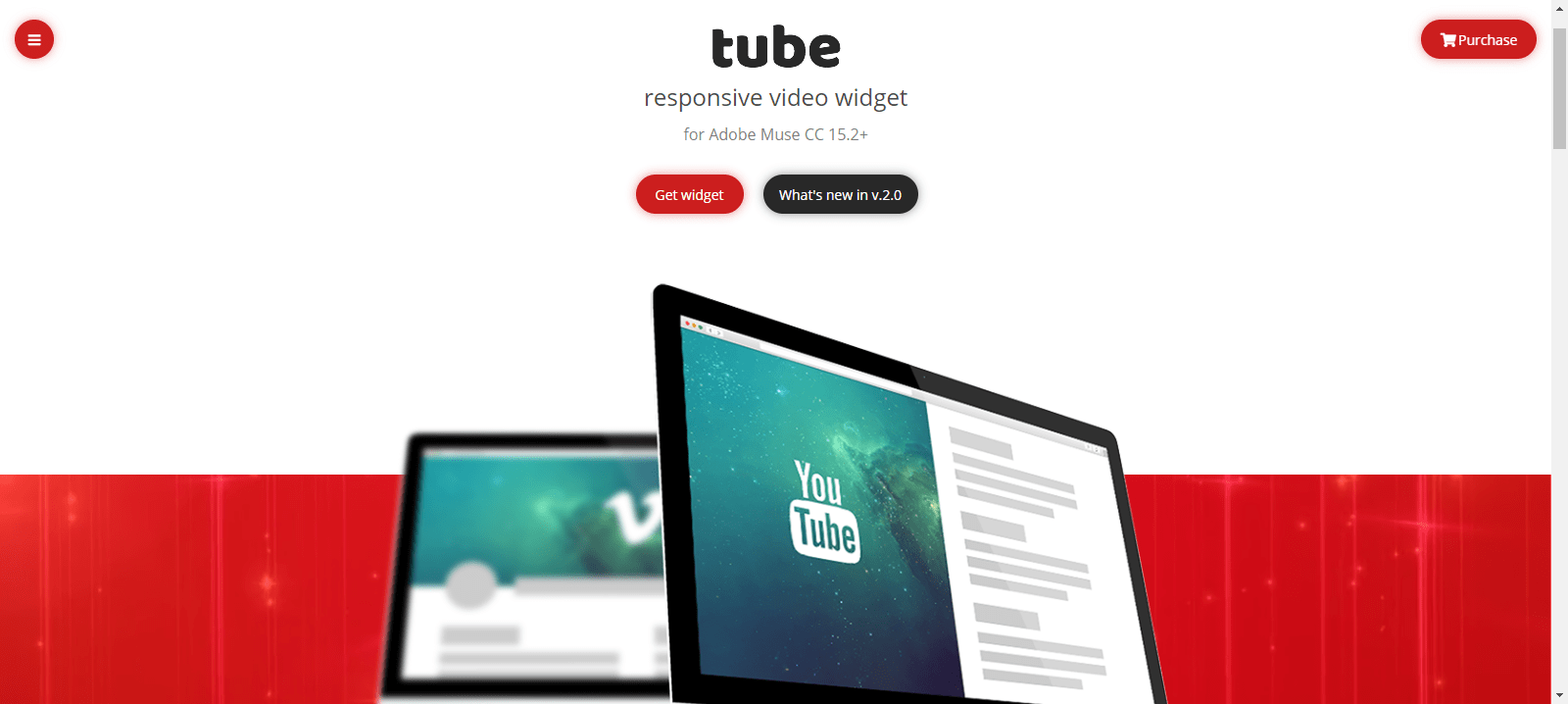 A powerful Adobe Muse video widget, Tube is derived from MuCow format 4. This widget offers Fullscreen Video, Full Height Video segments, Full-Width Video segment, and any type of video size or proportion you prefer.
Tube supports playback of a single video from Vimeo and YouTube, YouTube playlists utilizing Twitch videos, Vimeo, YouTube API, and Twitch Channels along with playback of WebM plus OGG files c employing HTML5 video tag and also MP4. Widget settings are also adaptable and let you incorporate any idea.
Tube widget video is an essential component of any modern website page. Video can be applied as a Background, Full-Screen Video, Video Presentation or Full-Width Video. It is also vital that you utilize offers optimal compatibility with every major browser be it Google Chrome, Microsoft or Firefox. It is also compatible with all video platforms and streaming facilities. Moreover, Tube works flawlessly on laptops, desktops as well as on mobile devices, tablets, and phones.
Main Features:
Fullscreen mode
Responsive widget
Derived from MuCow format 4 HTML embed widget
Custom mode for video size
Full height and Full-width mode
Parallax video background
Supports YouTube Playlist and YouTube live broadcast
Playback YouTube, Twitch and Vimeo videos, WebM, MP4, and OGG video files
Vimeo single video
Twitch live broadcast compatible
Autoplay, volume, loop, and mute features
Countless number of widgets on the page
Crossbrowser solution
Overlay blend mode functions
Twitch video compatible
Playback control preferences
Compatible with Adobe Muse CC 15.2+
Final Words
Adobe Muse is a well-recognized website builder that is packed with vital tools to build professional websites with captivating designs. You can quickly create a website using Adobe Muse without any need to scribble any lines of code! Widgets can be added after the designing of your page, are configurable and easily styled to meet the requirements of the designers. Above all, the best part of these widgets is that you can simply download it, edit and employ them with absolutely no requirement of coding knowledge.
Visited 1 times, 1 visit(s) today
Last modified: March 31, 2020