Create appealing portfolios for photographs, galleries, install WordPress themes for artists
Showcase your work and sell your products on the internet
Installing WordPress themes for artists means you can easily create portfolios, galleries, list your products which are physical and downloadable on your site. It is an easy way to showcase your work and sell your products online. You can make the best use of these WordPress themes and market your products and promote yourself online. To select the best WordPress themes for the artist, you may require better judgment skills regarding portfolio or project listings, blog-friendly features, customization and layout management. These WordPress themes for artists provide features for audio embeds ad-media players.
These WordPress themes are highly flexible and are a responsive artist and photo blogging theme. You will notice powerful gallery and typography features available with these themes. Some of these themes include an amazing slider which works quickly for attracting viewer attention to your site or content. You can make the best use of several layout options, typography features, custom contact forms, amazing sliders and several color options for letting the site to top your taste in art or designs. Install the best WordPress themes for artists now.
15 Best WordPress Themes for Artists:
1. Audioman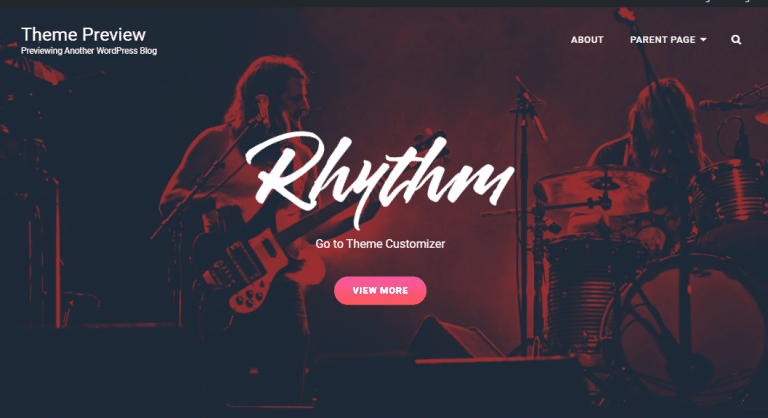 This theme is an advanced WordPress theme specially designed for musicians focusing on promoting themselves via the internet. It is a free theme that is highly responsive making your site look and feel professional across every device. The features list includes header media, featured content, featured slider, playlist, portfolio, testimonial, etc. it lets you build a perfect website. Overall, this theme is translation ready, with RTL language support.
Top 10 Programs Better Than Shopify
Important features:
A featured slider
Full support
It is translation ready having RTL support
2. Neve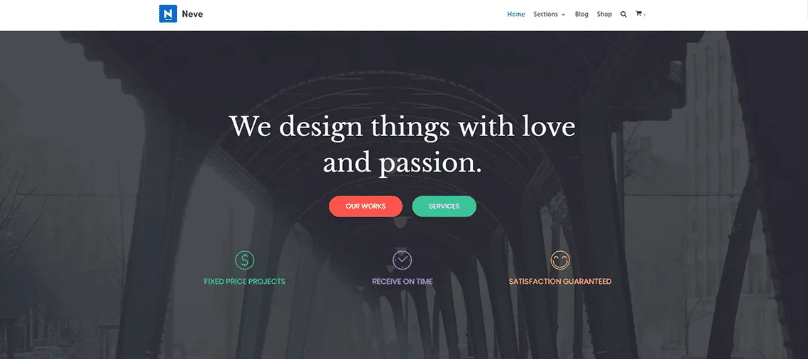 It is one of the multipurpose themes designed for freelancers or indie artists. You can easily set up an online platform for your precious content for spreading across the globe using this fully customizable option. This theme includes features meant for portfolios, project listings and also supports WooCommerce. You should know that its brilliant SEO optimized coding lets for a perfectly responsive experience for your site viewers. It is a user-friendly theme with features such as mobile optimization and translation ready.
Important features:
This theme is Gutenberg friendly
It is WooCommerce compatible and is SEO optimized
3. Thumbs Portfolio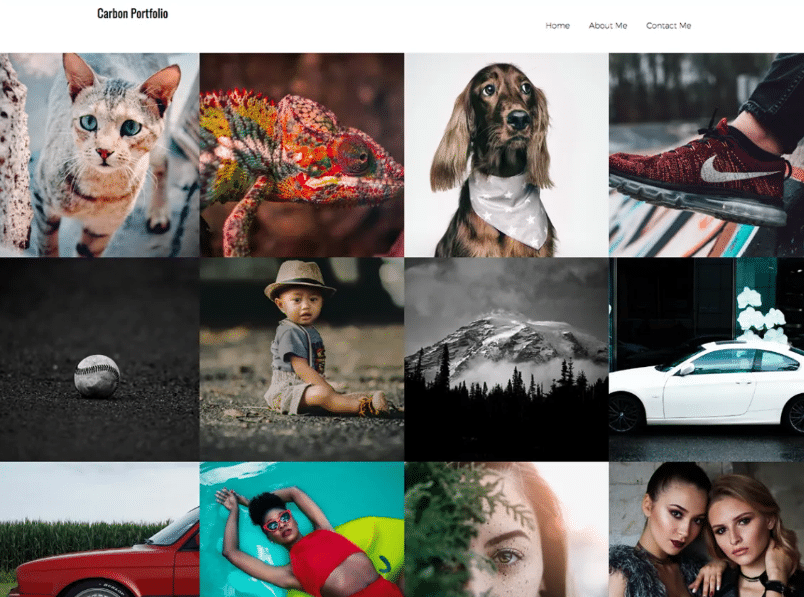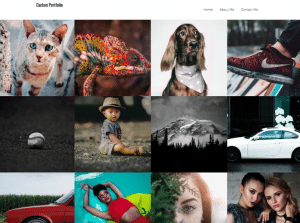 This theme is a visually perfect free WordPress theme designed for artists. It is the best choice for showcasing your designs, products and even creative work on the internet. This theme includes features that will leave a better impression on anyone. This theme has an interface that is highly responsive and is retina ready which executes on HD imagery. There are mosaic based gallery sections that engage in capturing your visitors' attention. It is best suitable for visual artists and also for some creative niches, you can simply customize every element for adding a custom touch.
Important features:
It has a highly responsive and retina ready design
It is SEO friendly
4. Scroll me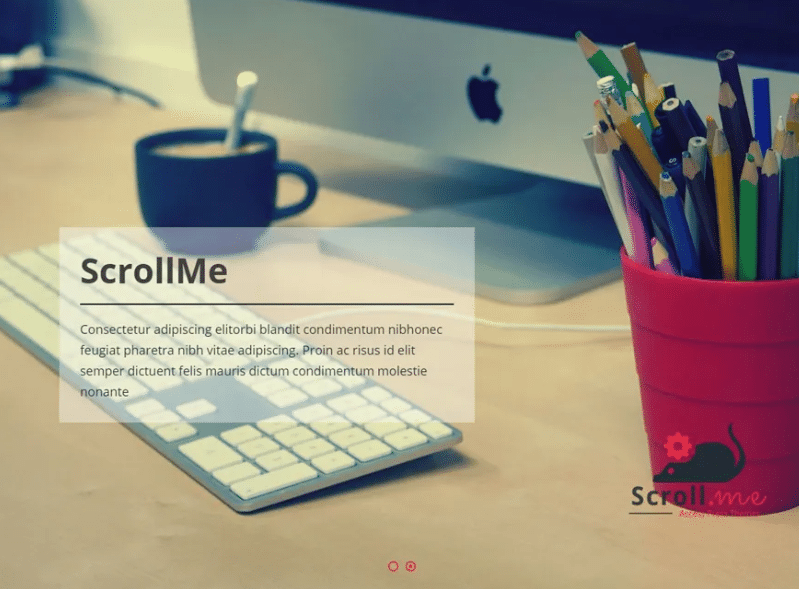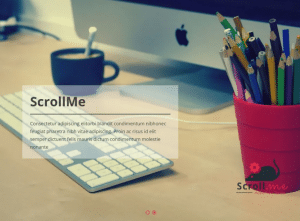 This theme has a unique design and is a perfect portfolio and gallery theme. It is free and is quite brilliant whether it is a matter of page scrolling buttons, the bottom drop up menu, perfectly designed section or blog pages. Also, it provides you with an appealing Masonry style portfolio section. Now add your galleries with services sections, progress bars, pricing tables, Google Map enabled contact section and much more. This theme is mobile friendly so you need not worry about the users using mobile phones who get confused at times.
Important features:
This theme has a perfect, horizontal navigation design
There is a Masonry style gallery
5. Illdy
This theme fits perfect for artists and graphical designs. You can easily create portfolios, landing pages and even galleries using this simplified theme. Entrepreneurs, as well as freelancers, will find it's one-page layout useful. Its Full-Screen hero image feature lets you place your precious content highlighted. This theme is fully compatible with every popular WordPress plugins like Yoast SEO, Jetpack and much more. A visual artist will find addition to font amazing icons, numerous color options, and a retina ready design.
Important features:
Features such as Hero image and homepage are available
There is a landing page, one page and is Portfolio friendly
6. Hestia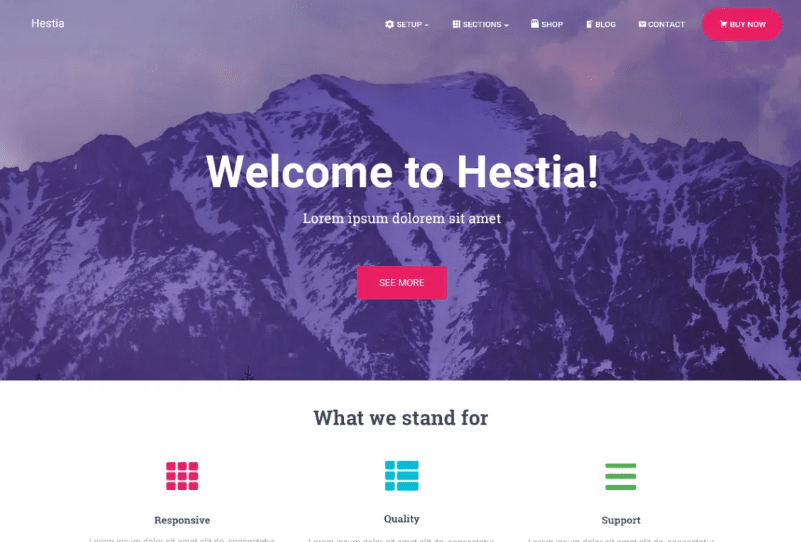 It is admired because of its material design and is a multipurpose theme having a responsive design which makes it best suitable for start-ups. This theme is compatible with custom backgrounds with full support for video backgrounds and sliders. It is specially designed for maximizing SEO optimization and its browsing speed. The availability of demo content lets you set up a functioning website within a couple of minutes. Now you can quickly start working on your portfolios and career presentation.
Important features:
There are mega menus for easy website browsing
There are custom backgrounds having video and slider support
7. Draft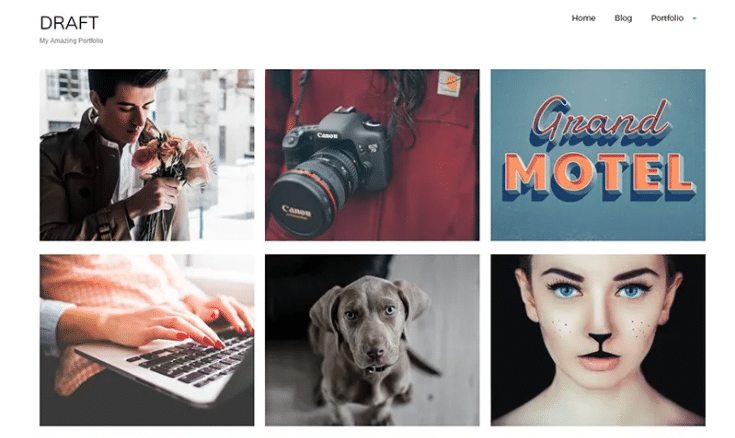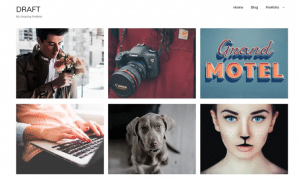 This theme is the best choice for artists who wish to build impressive portfolios and image galleries. You can simply set up appealing image galleries by uploading your artists and push them in your website with less effort. This theme is completely personalization friendly having huge customization options, numerous Google Fonts and vast color options. It is completely responsive on every PC web browser and also on mobile platforms plus it includes retina ready features.
Important features:
This theme has a portfolio and gallery friendly design
This theme is ready for translation
8. Sanremo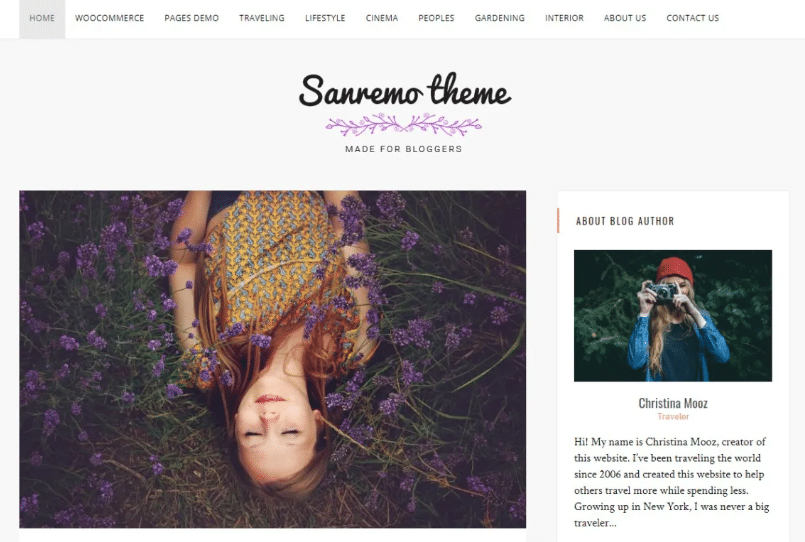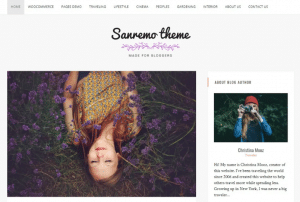 It is an advanced WordPress theme which is a perfect choice for any artisan, freelancer and even visual designer providing you with powerful tools that help you boost your career. Its design has been powered by the Bootstrap framework and is fully responsive and works fine on every mobile and PC web browsers. Social widgets provide you with customizable social icons for connecting with social media. It has a blog-friendly design ensuring full attraction to your precious content and your artistic creations.
Important features:
It is a free social widget icons plugin
This theme can be easily customized and managed
9. Rock Star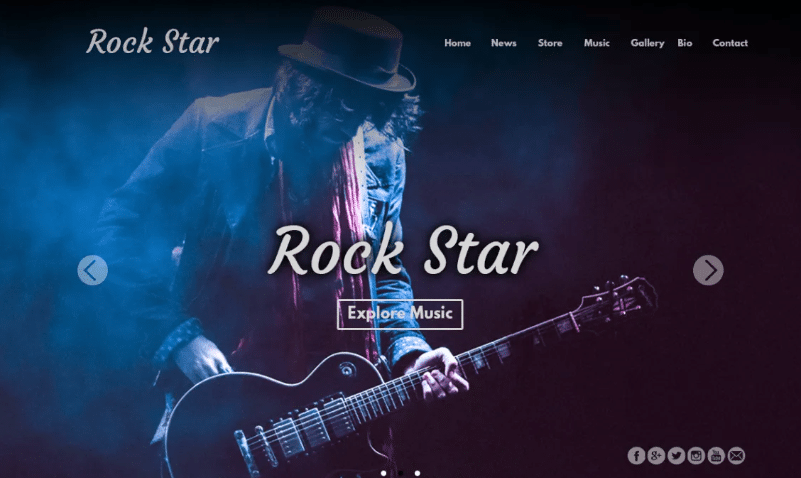 This theme has been specially designed for indie artists, bands and also music producers. You can easily use this them and its theme options panel for customizing various elements on your sites such as layouts, fonts, colors, logos, favicons Gravatars, fullscreen backgrounds and much more. It has been packed with a nifty widget designed for music websites. Artists can use this free theme for creating powerful home page designs complete with featured image, audio samples, Video embeds, blog sections and much more.
Important features:
This theme has an HTML and CSS design supporting mobile browsing
Full home page customization
10. Nisarg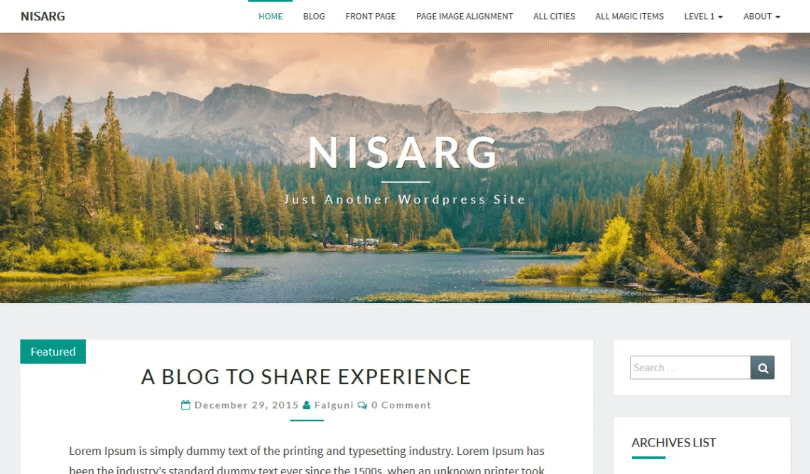 Artists find using WordPress theme comfortably and it allows you to make changes in numerous website theme options for suiting your visual style. You can easily personalize the header designs, backgrounds, color options, and event accent colors to your precious content using this theme. This theme is designed for travel enthusiasts, artists, and photographers which support image blogs. You can let the posts for representing its excellence using the post excerpt option.
Important features:
This theme has perfectly manageable theme options
It is mobile friendly
11. Hamilton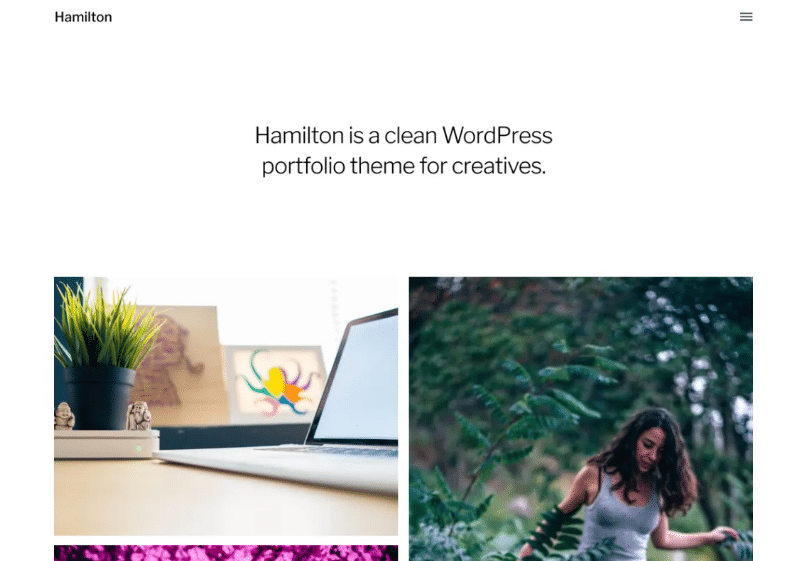 If you seek a free WordPress theme that can help you promote your creating, then it is the best choice you got. This theme has a wonderful, attractive design that will surely complement your artistic creation to a higher degree. You can select from a broad range of typography options and layout options for putting your artistic designs in the attraction spot. This theme allows you to create wonderful gallery designs and complex grids.
Take Your BuddyPress Community To New Heights With Hashtags Feature
Important features:
Experience Dark or White mode selection
This theme has a highly responsive and retina ready design
12. York-lite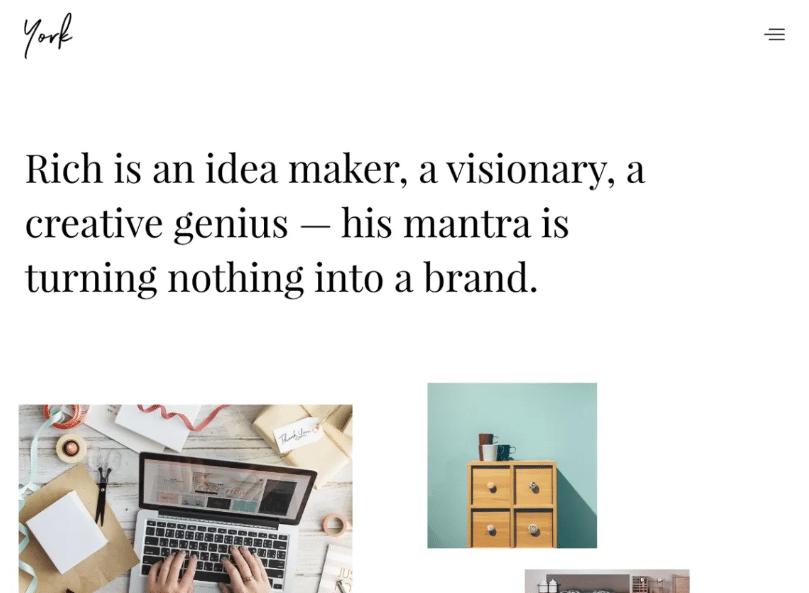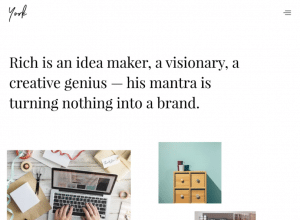 This theme is the best option that falls in the free WordPress theme category and is meant for artists. This theme has a grid-based portfolio design which is a perfect choice for artists, photographers, curator and even freelancers who want to boost their career. This theme allows you to create an extension of yourself by using its mobile responsive grid design. This theme has retina image support and is mobile friendly.
13. Ignis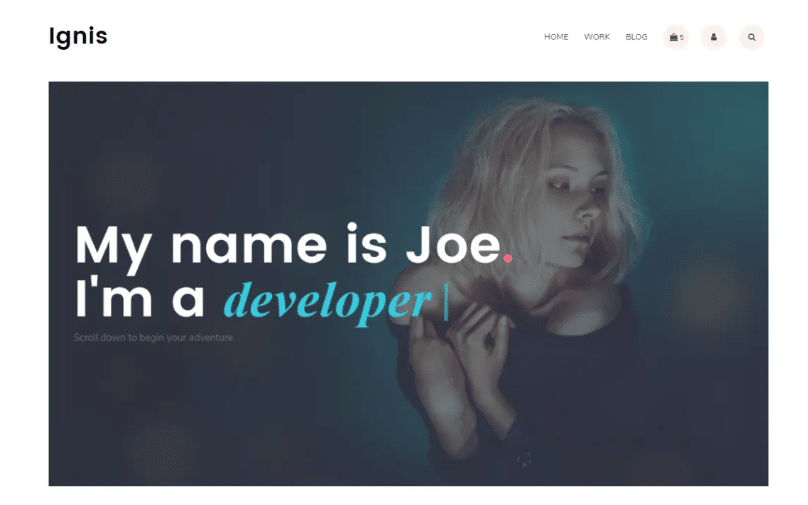 This theme is especially dedicated to artists. This theme has packs portfolio custom post type and allows you for creating an appealing portfolio and gallery designs. You can make the best use of its header section which supports static images and also videos. You can easily start editing the website theme to your precious content with vast theme options. This theme includes some of the blog-friendly features. This theme has a dedicated portfolio design and has a customizable header media with video support.
14. Radiate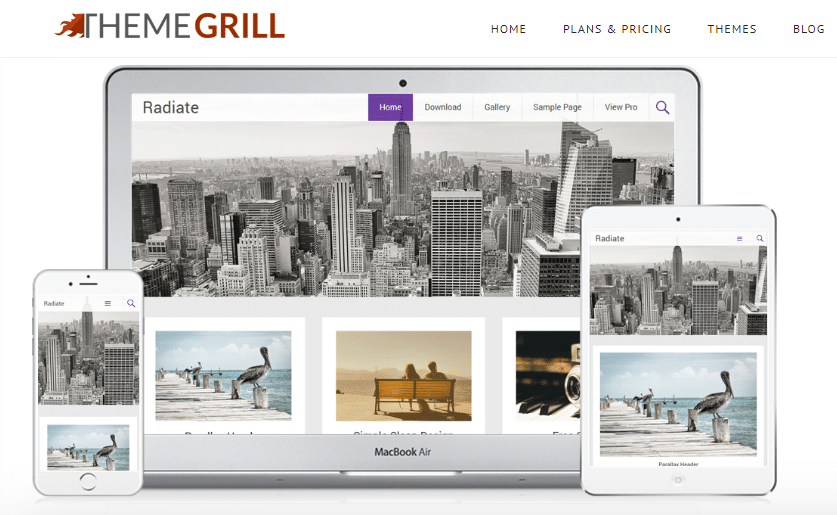 This theme has a neat, retina-ready design that fits perfect for artistic blogging. This theme supports parallax header images and custom backgrounds. Its gallery option makes it a perfect free WordPress theme. The gallery can be used as a portfolio by providing your images with an outstanding placeholder. You get free dedicated support and this theme is translation ready and even cross-browser compatible.
15. Masonic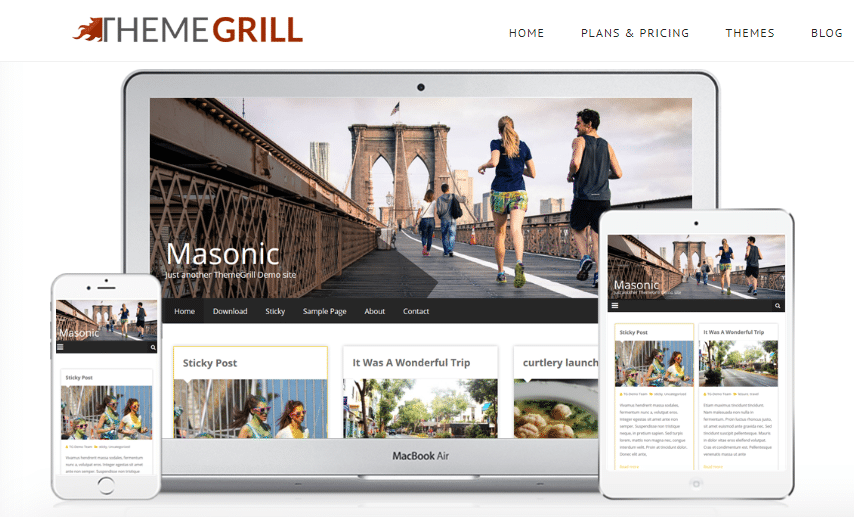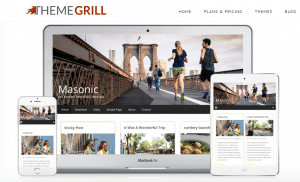 This theme is best suitable for artists and features a masonry style page design. You can start using this theme for creating attractive art galleries and outstanding portfolios. Blend this theme with perfect blogs and you get a combination to impress your viewers. This theme is quite fast, optimized and is responsive which means browsing your site is simple like admiring your art content. This theme has a Pinterest style Masonry layout and has nifty theme options.
16. Freedom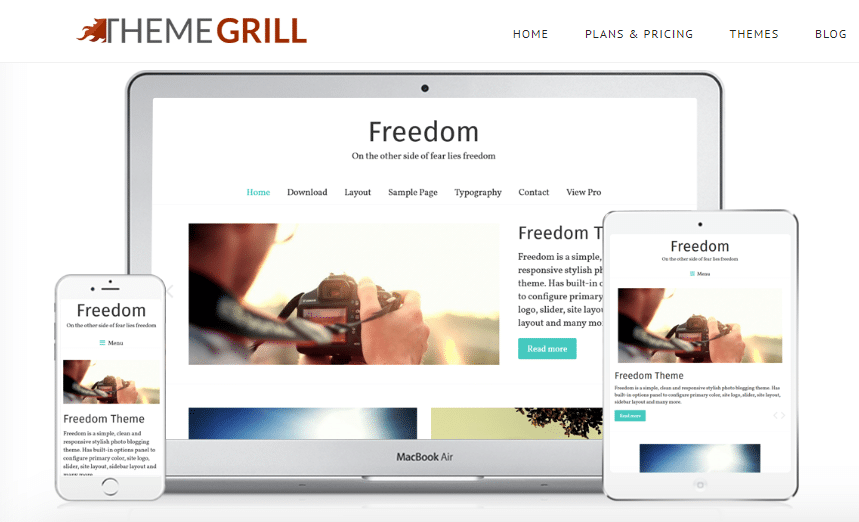 It is one of the most flexible and responsive artists or photo blogging theme which has outstanding gallery and typography features. Its photo blogging view can act as an impressive blog section featured by your imagery and creativity. This theme has an amazing slider that works quite fast for attracting your viewer's attention to your precious content. Blend several layout options, typography features, custom contact forms, amazing sliders and several color options for allowing your site to top your taste in art and designs. Features such as dedicated photo blogging and amazing image slider are noticeable.
What are you waiting for?
Now install these best WordPress themes for artists and start showcasing your work and precious content to attract your viewers on your site. You can make the best use gallery and typography features for attracting your viewers' attention. Hit the install button and get going.