Now you can manually translate any content on your website while maintaining its quality
If you are looking to represent your work on a global platform, you will need to present your work in multiple languages. For that, you have to install plugins that could help translate your content into multiple languages. There are two types of plugins that are used by bloggers and writers. The first one is a manual plugin that allows you to manually translate the content on your website. The second one is automated plugins which translates the content using online translating tools. It is your call to decide between the two depending upon the requirement.
You should know that installing automated plugins leads to compromised quality of content as it uses online translating tools. The manual plugin prevents it as it allows you to take control of the translation process. Focus on your requirements first and then decide accordingly. It is not necessary to use one of them based on their performance but should be used according to your requirements. Just in case if you have no plans to take your aspirations onto a higher level, go for automated plugins.
Here is a list of the 10 best WordPress translation plugins for your multilingual websites:
1. TranslatePress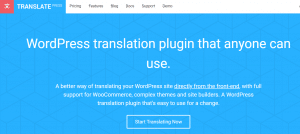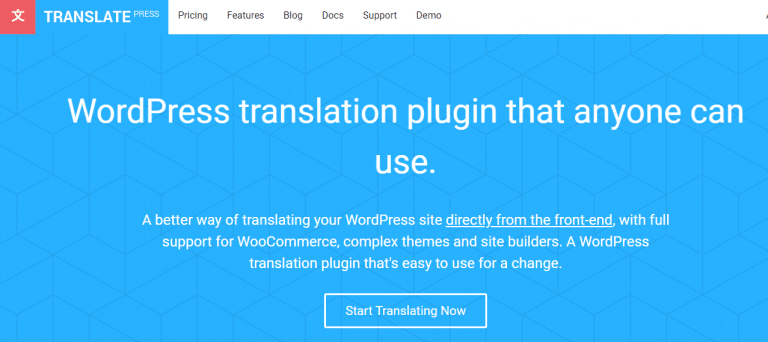 To translate your content on your website use this manual plugin. This is a full- ledged WordPress multilingual plugin which can be used to translate content and theme of your website. You can change the language while translating resulting in a change of live preview.
Key features:
Can be used for multiple websites having full control over the translation process
Users need not access the admin area to translate content
You can use Google translate for automated translations
Price: $87
2. WPML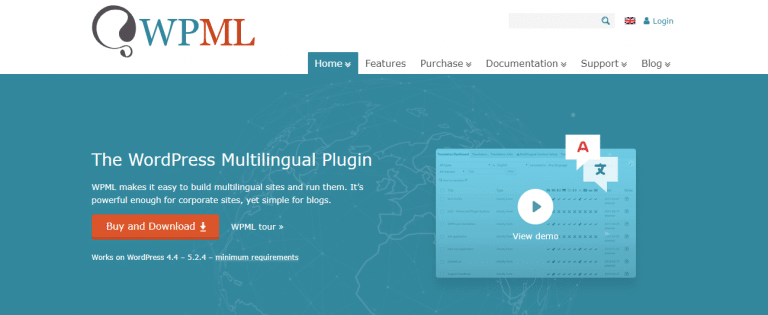 By installing this WordPress translation plugin you will be able to translate content, plugin, and themes on the same hand.
Key features:
Supports almost every post types, custom fields, and taxonomies
You can connect with third-party translation service providers such as Google Translate
Selection of content for translation is easy as it directly submitted to your website
Price: $29
3. Polylang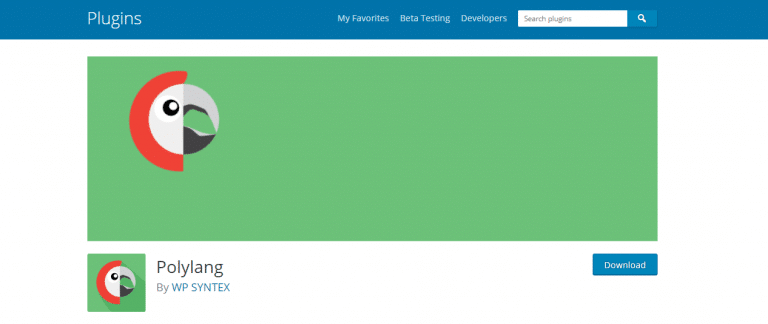 It could be used for both multilingual and bilingual WordPress sites. It has a simple interface that is used to add translations for posts, pages, and widgets.
Key features:
You can establish SEO friendly URLs for every language
Compatible with almost every WordPress SEO plugin
You can switch language using a sidebar widget
Price: free
4. Weglot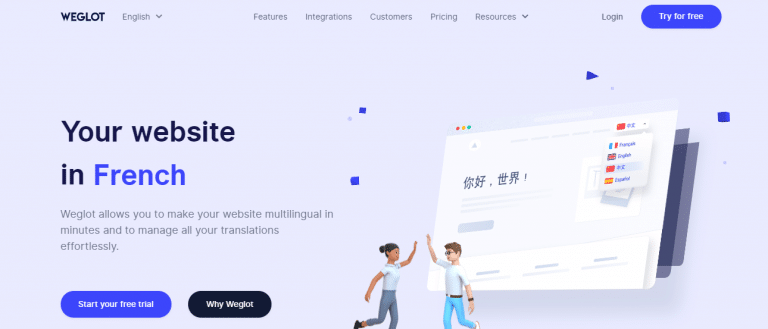 It is compatible with WordPress, BigCommerce, and Shopify. It is a cloud-based website translation plugin.
Key features:
Has SEO friendly URL support
Has Woocommerce support
A language switcher button is available
You can use third-party translation services
Price: 9$ per month
5. MultilingualPress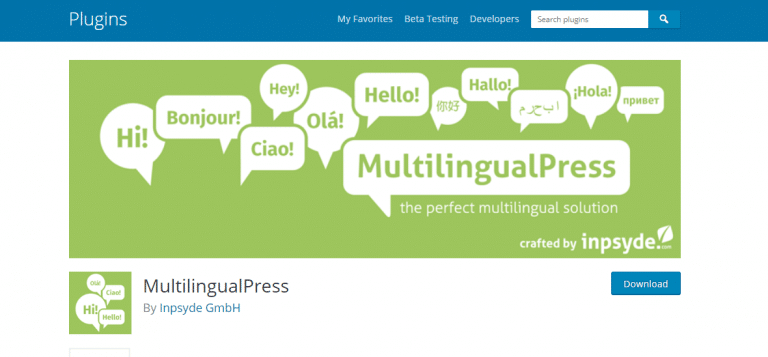 It is quite different from the normal WordPress translation plugin and has a built-in WordPress multisite network for every language.
Key features:
Perfect content management for every language as it loads one language at a time
It supports posts, custom post types along with taxonomies
Subdomain option for every language and separate directory and a custom domain too.
Price: starts from $199 per year
6. Translate WordPress with GTranslate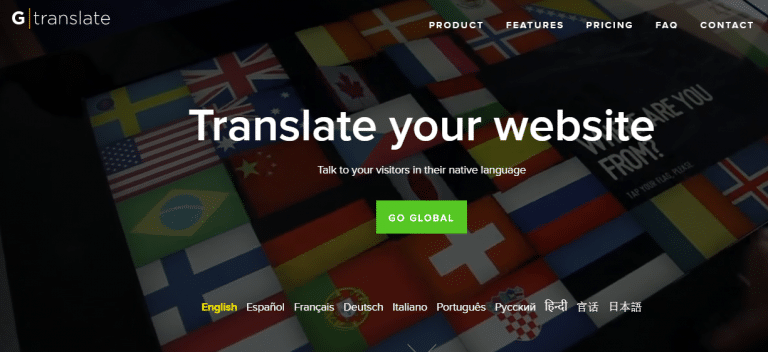 It can do its homework itself and connects to Google Translate API fetching translations for any supported languages.
Key features:
You can add language switcher for translation your web pages
Automatic translation of content based on visitors' native language
It also offers a paid version through which you can select SEO friendly URLs
7. Transposh WordPress Translation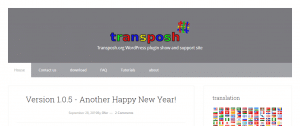 This plugin joins autonomous machine translations with a manual translation made by you. Your users can dedicate translations with the help of a context interface.
Key features:
You can appoint translation services to submit your translations
It supports Bing, Google and Yandex translation services
8. Google Website Translator
You can use Google Translate API for translating your content.
Key features:
You can use Google translate API for translation purposes
You will be able to display the Google translate button at any corner of your website
Shortcode feature available which lets you provide machines translations for particular pages as per need
Translated pages will be available for users when they choose their language or when plugin detects it through the browser settings
9. Loco translate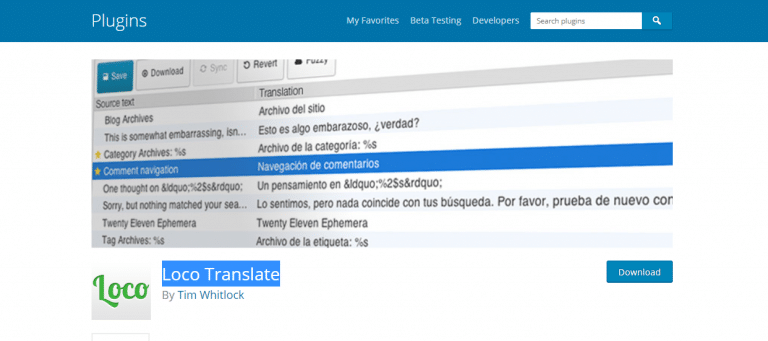 It is the most different plugin from any other WordPress translation plugin. It is used for translating WordPress themes and plugins.
Key features:
You can translate themes or plugins at the WordPress dashboard
Simple UI as any other translation tools
Only one column for original strings and another for translation
10. Lingotek Translation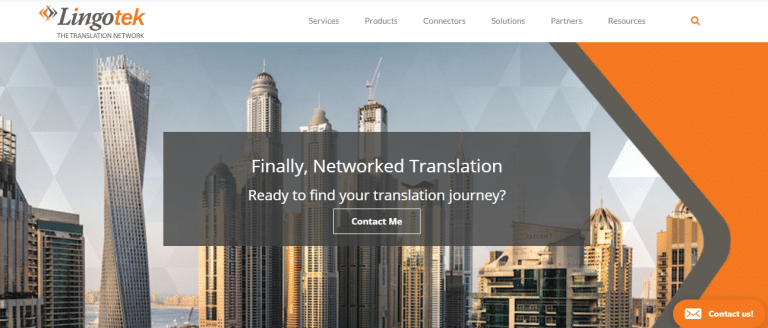 It is a free WordPress translation plugin which is a cloud-based translation management system.
provides translations in three forms:
Machine translation: made possible by Microsoft translator it is free up to 100,000 characters.
Community translation: translations that are provided by you and your users. Content is usually translated via professional text editor developed in Lingotek Workbench.
Professional translation: if you don't bother about expenditure then this one is the best choice for you which lets you hire Lingotek Members who are professional. Every translator has a job of creating a profile for you to peruse for selecting your favorite.
Also Read: 15 Best Community and WordPress Dating Themes
Install any of them for maintaining professionalism on your website.
For your convenience, the best WordPress translation plugins are listed. You can find one among the above-mentioned plugins for translation purposes. The plugins are available in both free and paid version allowing you to enjoy several features. You can let your users provide content in particular languages too. The best part is that you won't have to manage the translation process all the time as some of the plugins can perform this action for you. Now you have a clear idea about their importance for your website so choose wisely. Let your website reach the top level by providing multilingual content on your website.
Visited 1 times, 1 visit(s) today
Last modified: November 7, 2019