With WordPress, you can do so many things as there are countless WordPress plugins available to assist various purposes for you. With WordPress plugins you can make pagination, setup live chat interface, image galleries, and advertising management, and many more. Nowadays, one of the most famous features in trend is the social media login feature by which customers and users can log in and sign-up for a specific website with the support of their social media network profiles. There are enough of WordPress Social Login Plugins which not only enable social login but also increase the overall performance of a WordPress website. So, without another ad, let's review the list of Best WordPress Social Login Plugins below.


1) AccessPress-WordPress Social Login Plugins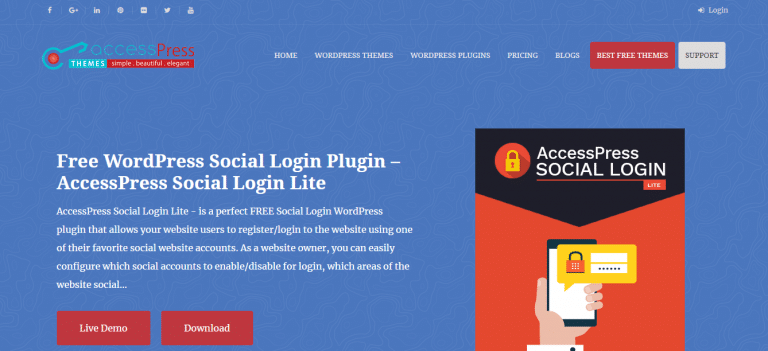 AccessPress social login is the best free of cost social login WP plugin that enables your website visitors and users to log in and registered to the website using their preferred social website accounts. If you are a website owner, you can simply configure which social media account is enabled or disabled for login. Which place of the website, social login should be showcased(comments, login, and registration). Also, you can choose the social login icon and buttons, four wonderfully designed templates to suit theme with your website's overall theme and designs. Your website will receive the actual data of the user's social media profile. Your website visitors can pick any one social media account to login to your website. There is no required to fill up the large registration form and remember various login credentials. Here are some essential features of this plugin:-
1) This plugin is having four amazing designs for the social icons and plugin, you can choose anyone. 
2) You can use the shortcode anywhere where you want to use on the page and post to showcase social login. 
3) This plugin is configured all the socials accounts by setting up some authorization details. 4) This plugin configures which social media accounts to enable and disable in the login area. 
5) It is easy to use and nice interface for the website admin to configure and manage the plugin. 
6) This plugin has the ability to send all login details to the user's emails and single-click registration and login.
Try AccessPress Social Login Now
2) Nextend-WordPress Social Login Plugins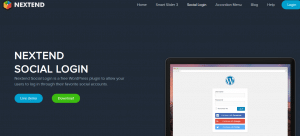 Nextend Social Login is a free WordPress social login plugin that enables your users to log in by their preferred social accounts. This login plugin supports you to make the best community immediately. Visitors can register with their social media accounts like Twitter, Linkedin, Facebook, and Google+ with just a single click. This plugin is perfectly integrated with your existing WordPress registration and login form. User can connect the social media account and then easily use the connected social network to log in. You can simply configure which social accounts want to use for login which place of the website social login buttons should be showcased. Here are some features of this plugin:-
1) This plugin showcases social login button in your WordPress login forms and visitors can simply and easily log in by their preferred social media accounts. 
2) With this plugin, the user does not require to use their username to log in with their social account. But you can ask them to fix it up upon registration. 
3) In this plugin email are not always available form social suppliers. In that case, you can ask visitors to provide you with the email address. 
4) This plugin is compatible with the woocommerce that you use can easily make the new registration and login into their access account. 
5) You can forbid the login with social media to account for a particular role. By the example, you can understand that you can force admins to login with their password. 
6) They know how all the is important for you that's why they make the translation ready plugin that you can change in your preferred language.
Try Nextend Social Login Now
3) User Signup for Arforms-WordPress Social Login Plugins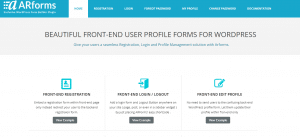 User Signup for Arforms is the best Trending WordPress Social Login Plugin. The users signup with this plugin and its addon provides you the best features of users profile facility and user signup. You can now make wonderful forms for all activities like To Edit Profile, user registration, Login/Logout, Forgot, Change and reset password through few clicks. This plugin add-ins also provide the facility to login and signup with famous social media accounts such as Twitter, Google, Facebook, and Linkedin. This plugin is having some feature:-
1) You can insert a registration form with the frontend page only in place of redirect your user to the backend registration form. 
2) You can add a login form button and logout button where you want to put on your website(sidebar widgets, page, and post) by just placing this plugin's simple shortcodes. 
3) This plugin add-ons enable you to update their account password from the frontend. 
4) This plugin allows your users that they can retrieve their password if they forget and want to change to secure their website, they can change it through the front-end page of the WordPress theme. 
5) In this plugin you don't need to send users to the confusing back-end WordPress profile form, they can update their social media profile through the front-end.
Try User Signup for Arforms Now
4) WooCommerce Custom Registration-WordPress Social Login Plugins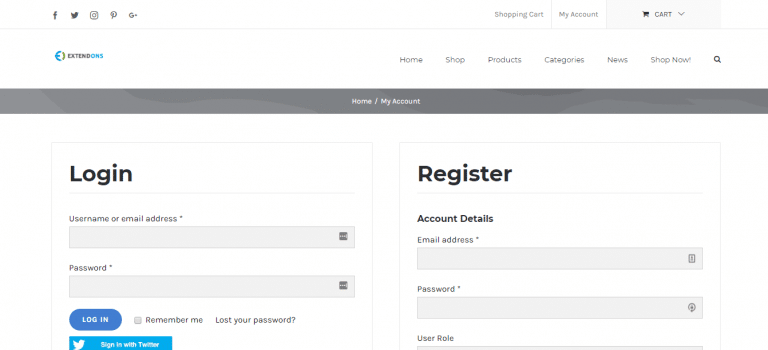 WooCommerce Custom Registration Fields Plugin enables you to include more custom fields at your customer's registration form. You can include color picker, text area, file upload, text box, password, select box, data picker, checkbox, time picker, multi-selected box, radio button, and many fields. This plugin also enables you to enable, and disable default woocommerce fields. Twitter login functionality and Facebook are also enabled in this plugin. Feature of the WooCommerce Custom Registration Fields Plugin:-
1) You edited default and can enable and disable the woocommerce registration field. 
2) This plugin auto gives limited access upon request user role. 
3) By this plugin, your users can edit and view extra information in my account section. 
4) You can showcase custom messages to block users on the registration page and also showcase custom messages to users waiting for the account approval. 
5) You can manage users' id, change user role, block, limited access, and delete. 
6) You can include custom email notification for all the user's role status. 
7) This plugin assigns capability and makes the custom user roles.
8) With the help of the drag and drop page builder, you can add a new field.
Try WooCommerce Custom Registration Now
5) WordPress Simple Login Registration-WordPress Social Login Plugins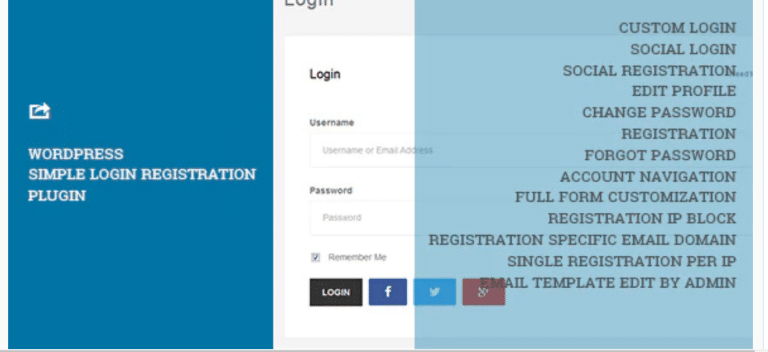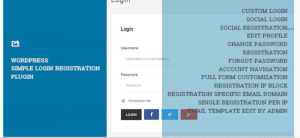 WordPress Simple Login Registration is a simple and easy WordPress plugin to turn your website into a membership website. It will generate every important page that needs for any membership website. Amazing drag and drop field editor makes signup page so immediately. Member can handle the profile on the frontend. Here are some important features of this plugin:-
1) You can make and showcase users group-wise website navigation with built-in posts, page and also external links. 
2) This plugin is having three unique registration themes and fabulous front-end login with the simple shortcodes. 
3) This plugin is translation ready plugin and support with mo/. po and PHP file. 
4) Admin configurable registration, login, change password, profile editing, and reset password web page form fields with placeholder and label, input needed configuration and vitality. 
5) It uses WordPress user meta to make sure compatibility with other plugins. 
6) You can reset password with the username and email. 
7) You can be redirecting the user to the homepage if they are visiting the admin panel. 
8) This plugin is totally responsive and Customizable in any size and only one registration per IP configurable.
Try WordPress Simple Login Registration Now
6) UserPro-WordPress Social Login Plugins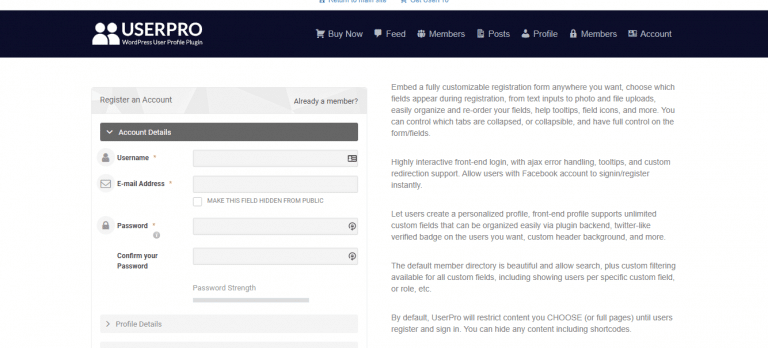 UserPro Community and User Profile WordPress Plugin. You can make an amazing front-end community website that has a user profile in WordPress using this plugin. This plugin is easy to use, and simple all in one plugin. It supports you to make a whole community website. This plugin provides registration and login and wonderful front end profiles for WordPress. This plugin comes with a collection of different features such as private and public activity feed, social integration and connects, content restriction, viral marketing, verified accounts, and user badges. All you need to set up a community website. 1) Follow and Unfollowed feature:- This feature enables your users to follow and Unfollowed different community members. Simple shortcodes can be used to showcase the followings and followers. 
2) Social activity stream:- This displaying the current activity by users on the website such as new posts, new followers, new registration, new comments. Accessible in two types- Private activity stream and Public activity stream. 
3) You can showcase members in standard college, standard table format. You can also display a customized member list.
4) This plugin allows member directory with filter options and standard search. Use custom filters to display your members in increasing members' directory. 
5) You can display posts created by the author and user on the sidebar and huge content place. Display posts by them dynamically. This is totally responsive posts by the user can be involved in the user's profile as well.
7) BS Input-WordPress Social Login Plugins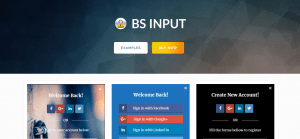 BS Input is a register popup and social login with website locker and shortcodes WordPress plugin. This plugin enables your website users to register and login to your website using their preferred social website accounts and using their mail address. BS Input doesn't need any coding knowledge, and any theme modifying it will work out of the box with any theme and control the plugin involve custom shortcodes so, you can place the form on the custom page and in any widget place. With the lock feature, users won't be able to see any of your website content, remove theme header and footer, and customize your website body for non logged users, change fonts, colors, and backgrounds. Control on every part of your new login page. Here are some features of this plugin:-
1) This plugin having the social buttons that can be included in the woocommerce checkout form. 
2) Tt's website lock mode can be customized with custom colors and backgrounds. 
3) This plugin is having a custom option to include limitless links for logged in users, customers email templates. Enable and disable font amazing integrations, and custom color for email templates. 
4) This plugin is compatible with BuddyPress. woocommerce and supported to the BuddyPress further profile fields. 
5) Every post's content is locked for non-logged users and every website can be locked for non-logged users.
8) WooCommerce-WordPress Social Login Plugins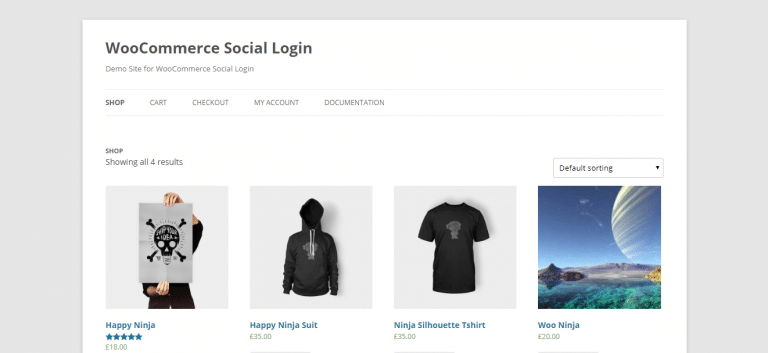 WooCommerce is a best and fully responsive Social Login WordPress Plugin. This is the fastest way for your customers to register and log in using the present social media network accounts. This plugin works standalone. You can particularly use this plugin with BuddyPress, peepso, woocommerce and bbpress. This plugin supports so many networks like Instagram, Linkedin, Facebook, Twitter, Google+, Yahoo, VK, PayPal, Amazon, and Windows. This plugin is having some essential features:-
1) With the statistics for social media network option, you can get a visual representation of registrations on every social network. 
2) This plugin also compatible with WPML for making the advance shops, bbPress for advanced forums, Buddypress for social sharing, W3 Total Cache for performance optimizations and YOAST for SEO improvements. 
3) You are using the premium plugin that means keep update it manually, losing time and teaching customers additional producers. Just forget it now you can update WPWeb plugins directly from WordPress. 
4) If you are finding yourself that you need any help, this plugin adds some extensive documentation file with step by step instructions explaining how all feature works.
9) WordPress Social Login by miniOrange-WordPress Social Login Plugins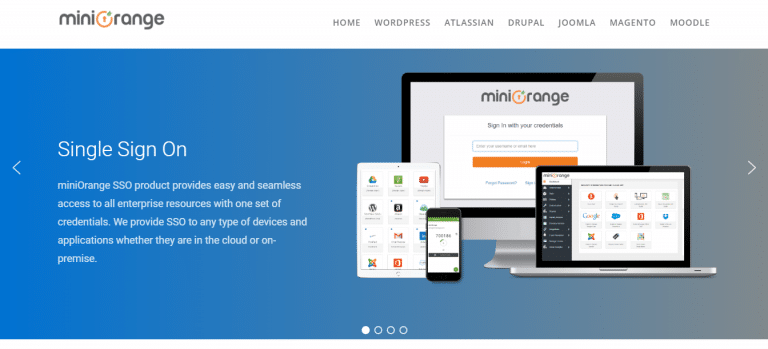 WordPress Social Login by miniOrange is the total support single-sign-on platform trustworthy integration to every mobile application, and website. Customers daily need to remember many passwords. Security best practices required those passwords to frequently change, different, and powerful. It is no wonder that their customers write them down, keep them to the motoring and forgetting theme. This plugin is challenging by continuously discovering click and rejecting the required to remember or enter the application password and username. Here are some essential features of this plugin. 
1) This plugin login with mostly social media accounts like Twitter, Facebook, Instagram, Tumblr, Linkedin, Google, Amazon, and Windows Live. 
2) You can set up your social login app with APP secret and APP ID for Twitter and Facebook. 
3) With the help of the icon customization, you can customize the theme, size, shape, and space of the social login icons. 
4) You can maintain the role of the users logged in with social login app. 
5) You can include the social login icons: comments, login page and registration page from and anywhere on your website using their shortcodes and social login widgets.
Try WordPress Social Login by miniOrange Now
10) SocialAll-WordPress Social Login Plugins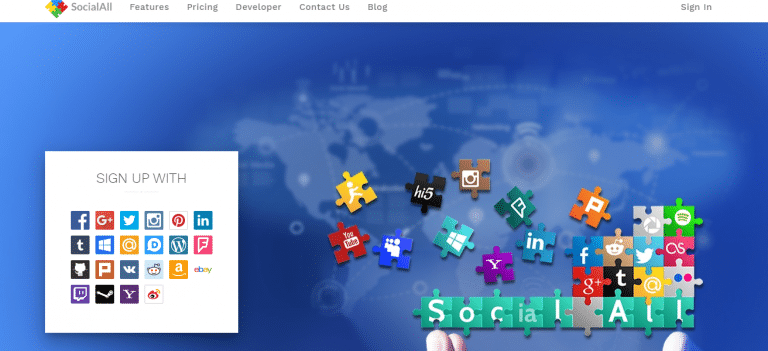 Social Login is the fastest way for customers to login using the current social media network accounts. With Social Login, your website will become more convenient and more friendly thanks to signing up time-saving and password security. Social Login will fulfill your most financial clients. This module uses a central service — SocialAll — for authentication login for simple installation and to immediately future updating from suppliers. It takes your few minutes to install and setup everything, with easy to understand user guide. Or if you cannot set up to the module, they will support you do that. You can choose where to showcase the login form: Register PageWith ShortcodeLogin PageComment Box. Here are some essential features of this plugin:-
1) This plugin is having 15+ social media networks that all supported with their unified API, and more feature and social networks are under development. 
2) This service is based on basic HTTP requests so you can integrate and access any platform and programming language. 
3)The answers time is always the most essential to their service. They bring great experience to your users. 
4) You can save development times and resources by using their unified API. Focusing on your basic business features, every further social network backends are under their responsibility.
Final Word For Trending WordPress Social Login Plugins of 2019
WordPress website. The social login WordPress plugins not only make your website user-friendly and very responsive, but it makes the website look extremely professional. Every plugin mentioned in this list is highly used, and they are powerful. If you are looking for the social login WordPress plugin just check this list once, I hope you will find the best plugin for your website, and it will help your website to look better and appear on the top. All the plugin are very responsive and easy you can assess this plugin and all the plugins are compatible with so many browsers. You can connect this plugin by any social media network.