Making a standard‌ ‌WordPress backup is a great thing that you can do for your website security. Backups can protect you from unfortunate situations like if somebody hacks your website or you unintentionally close yourself out. Here are some WordPress Backup Plugins and all the plugins are easy to use. So many WP hosting gives bounded backup services, they always suggest their users do not depend on them. End of the day it's your duty to maintain daily backups of your website. If you are not having any backup resources that you can use any one of these plugins and apply it right now.
1) UpdraftPlus-WordPress Backup Plugins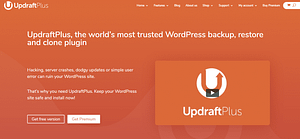 Updraftplus is the most trusted WordPress backup plugin. This theme commits with an easy to use, the link that permits you to restore and backup with one click on a schedule that is perfect for you. All the backups plugin are not trusted but you can trust on this plugin which is tested in many forecasts, rated higher than any other opponent and installed on many servers and devices. This plugin is a restore plugin and usual-purpose backup with many features and advance and modern tools than another opponent. This plugin performs manually and schedules a backup of every WordPress database, themes, files, and plugins. This plugin has a backup schedule after four, eight, and eleven hours, and also backup schedule daily, weakly, monthly, and fortnightly.
By this plugin, all the files have restored a backup directly from WordPress control panel. With the help of the migration clones your WP website transfer it to a fresh domain or host instantly, easily and simply. The incremental backups enable you to just back up changes at your files, that have been created to your website since the final backup. This plugin gives expert support and help from the developers when you required it. With the help of the pre-update backups automatically backup your site before any other updates to cores, themes, plugins. This plugin backup the WordPress core and non-WordPress files and database. Some plugins cannot restore backups, but if you use this premium plugins than you can restore the backups.
2) Backup Buddy-WordPress Backup Plugins
Backup Buddy is an original backup WordPress, move WordPress and restore WordPress plugins. With a single click, this plugin will backup your whole WordPress site from within your WP dashboard. This plugin creates the step of how to back up a WordPress website into six simple steps. Another backup plugin only backup the database, but this plugin backup while WP installation, make sure you are having a copy of the whole WordPress site file. This plugin involved all the things that you required to access your WordPress website. Backup complete files, complete files in the WP media library, WordPress theme, and plugins. Plugins finish backups one time, and you will get a downloaded zip file of the whole WP website. With the store backup files remotely, when you are backing up that time this feature automatically transfer all the backup files to various remote WP backup memory locating involving Amazon S3, Dropbox, backup buddy stash and google drive.
This plugin having instant email notification features that when plugin completed the backuping and quickly you will get the email notification and if you required attention make sure that you are having a useful and current backup of your site. This plugin provided automatic WP backup schedule such as daily, weakly, monthly, hourly, twice daily. This plugin adds import buddy tool to restore WP website to an older backup if anything goes wrong. This plugin manages to restore your complete WP site back to its primary glory, adding every upload, WordPress plugins and themes files, media library files. You can change domain name simply and easily if you required it. The plugin manages to transfer your website to various URL and Domain.
3) Multi Plugin Installer-WordPress Backup Plugins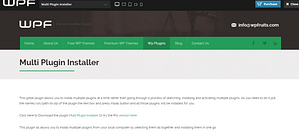 Multi-Plugin Installer is the best solution to take a backup from multiple plugins. You can back up the wordpress website and restore in a single click. This is the best plugin allow you to install multiple plugins at a time. It allows you to back up of all or selected plugins from all the plugins installed in your WordPress. With the help of the restore, plugins whenever you want to restore your plugins backup. So, you never have to lose your plugins and its settings. You can easily send your backups to your clients email-address for storage and accessibility. You can easily upload and download your backups to your Dropbox possibility. Take the regular backup of your all selected plugins. Download to your PC or your email yourself or your client. Install plugin from your local machine by browsing to it. Install the plugin by Entering their name/URL/Zip archiver link.
Upload and download backup whenever you want on Dropbox. Import MPI files and install and activate the plugin in a single click. This plugin is compatible with major browsers like Firefox, Opera, Chrome, Safari, Edge. this plugin includes JavaScript JS, CSS, HTML, PHP. Installation of the plugins is not simple but thankful to this completely documented bundle. You have to follow some steps and instruction and you can install this plugin, their dedicated and responsive team of WordPress plugin experts make sure every step is defined to spell comfort on your end. Their plugin comes with compatible and handy with browsers and you will achieve Great support without having your hands dirty in PHP.
Try Multi-Plugin Installer Now
4) Super Backup & Clone-WordPress Backup Plugins
Super Backup & Clone is a migrate for WordPress website. This is the best solutions for your peace of mind. Super backup and clone is the number one selling backups solution plugin. With this plugin, your WordPress website file will automatically backup in a single click. This theme is never missing a beat when it comes to keeping your WordPress website and file safe. This plugin provides 50+ options into one backup platform, it is more than anyone expects. The focus was to cover any safety concern nut into a  way which is most friendly and easy to use. No special knowledge required of an IT specialist. Super Backup & Clone plugins support multiple cloud backup destinations. It is based on your necessities and desires you can set multiple backup destinations using one of the available services. In this plugin, you can save your backup with just a few clicks and cross-server Sync capability for a safety Migration.

There are three types of migration clouding. First one is a single website to multi-website an easy snapshot from a quality WordPress website can be migrated into a decided single website on your multi-site platform. That you can transfer your every independent WordPress website to a single WordPress multi-website. The second one is multi-website to multi-website:- This plugin permit you to move a direct cloud migration from single multi-website to others without any tensions. Third and last are multi-website to the single website:- If you are working into a multi-website platform, the system will identify that and you are having an opportunity to having a single website snapshot ready to migrate to common WordPress website.
5) VaultPress by jetpack-WordPress Backup Plugins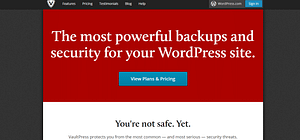 VaultPress by Jetpack is the strongest securities and backups for your WordPress website. This plugin will secure you from the most usual, security threats, and most serious. This theme is having strong features for agencies, individuals, and professionals. In case anything going wrong in your website, an immediate, the harmless restore will take it back to its old glory without engaging your host even once. With the help of this plugin, you can move your website and duplicate it now. Automatically identify and malware, eliminate viruses and other workable security problems that can be stalking on your site. This plugin automatic repair dangerous file and find the viruses in a single click. This plugin saves your SEO, brand reputations and readers, and automatically blocking every spammer.
Just click a button and start restoring any backup within minutes utilizing an SSH and FTP connection. You can restore your existing website. Or substitute test website. This plugin creates it simple to review doubtful code and set the most usual threats with a single click. For the extremely harmful threats, this plugin will automatically set your website and report you of the details. This plugins daily scan your complete website for harmful files, and also any doubtful changes at your WP install. They will email you if there is going something wrong. You can also see the plugin activity at the same time. When plugins sync your current changes, and scan your website for security threats, just like magic.
6) Backup And Restore-WordPress Backup Plugins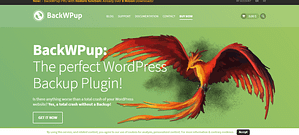 Backup and Restore is a WordPress plugin by this you can Schedule and take backup on-site server or cloud servers involving Amazon S3, Dropbox, Google Drive. You can easily recover your website from sudden crash. No need to worry about taking regular backups, just schedule it. you can also take a backup of selected file and folders. Multiple platforms to save backups, you can use any cloud platform. You can also clone your WordPress to another server. Restore any backup any-time. This plugin is ideal for the bloggers, forums, job boards, portfolio, communities, photography, etc.. You wanna get the hassle-free system to move your files from one place to another then you are on the right place. BaR provides an awesome feature of cloning your backups to any server you want. File and database can be cloned separately. No need to transfer file manually to clone your website, just take a backup and clone it using BACKUP and RESTORE.
The plugin provides you an awesome feature of restoring your website when it totally crashed(the dashboard is not accessible). You can simply go to the link given in the backup-and-restore/setting/others section and get the link and you crash key. Download all files and folders of your website on your system so that you can keep it in your vision. Browse zip file to restore the site and SQL file to restore the database. For customers flexibility, they add a OneDrive integration to back up your site. Restoration options are also available for OneDrive Backups. You can customize which folder and file you want to back up or restore and only selected folder are considered while taking backup. Your website backup reports are displaying with various restore matters on the dashboard.
7) My WP Backup Pro-WordPress Backup Plugins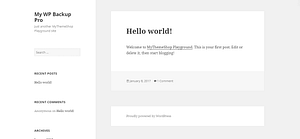 My WP Backup Pro is a great way to save your website and data. WP backup is a super easy to use and setup, and you can create your backups without headaches. Get acquainted with all the options available with WP backup that can help you better protect your business and make it easy for you to set and forget backups while still knowing they will be there when needed. WP Backup includes WP-CLI commands allowing you to run a job or restores backups right from the command line. You can set automatic backups and trust theme to occur on schedule, and you can create manual backups if you need one specially created. You can choose to back up everything on your WordPress installation and rest assured that everything will be there if you need a full restore. Save space, and the only backup what's changed since the last backup with the differential backup option. You can split your backups into smaller volumes(such as if you want them through email) to make each file smaller.
Choose to back up only your WordPress database and keep that structures intact if needed for migration or restore. Choose to back up only your WordPress file with the file only backup option that backups your WordPress directory files. Choose to schedule backups, So, they happen automatically at the time that is convenient for you, such as nightly or low-traffic times. If you want to back up to another FTP server, you can easily do it with a backup to FTP option. Choose to have your backup sent to email so that you can easily find theme whenever you need. Choose tar, tar.gz, and tar.bz2 archive types for what you want your backup to be archived as. You can choose to have your backup archives stored as a ZIP file for space storage.
Final Word for the Best Free And Paid WordPress   Backup Plugins Of 2019    
All WordPress plugins in their list having their cons, and prose, but every WD theme provided whole WordPress file backup and restore and also a whole database backup features. They use vault press for two major purposes. This plugin is straightforward to use, and it provides same-time progressive backups. It's mean that alternatively of backing-up every wordpress file every hour and every day. It only makes a backup for actually what is updating at the same time. This is perfect for a big website because it permits you to use their server facilities successfully. If you are working with the small website or medium website, and you don't want to pay the monthly charges then they suggest the famous Uperdrafts plugin.
This plugin comes with every strong feature such as widgets of cloud storage options, backup encryption, and encrypted backup transport. One thing you have to learn that don't store your file backups on the similar servers as the website. If you put all the backups in the same server, in case the hardware of your server crashed, failed and get hacked that time you all backup data will miss. That is the reason they suggest strong your backups on Google Drive, Dropbox, and Amazon S3. I hope so this list will help you find the best backup plugin for your website. You can also see their step-by-step WP security guide for newcomers.