Security is what matters a lot while creating a presence online. A small carelessness or mistake can result in serious consequences for you. Similarly, when you are running your website on WordPress, you must deploy some security on your site that ensures timely backup and restores of your database. And, WordPress Backup Solutions are a smart option for it.
7 Comprehensive WordPress Backup Solutions
So, explore this list of 7 most comprehensive WordPress Backup solutions and protect your site with a strong shield:
1. BackupBuddy

iThemes offers one of the best WordPress backup solutions "BackupBuddy". It only requires a few clicks to back up your WordPress website. It doesn't just take the backup of your database, it also takes the backup of entire WordPress installation so that you'll have a copy of your WordPress files every time.
Key features include:
Back up of entire WordPress website
Scheduled and automatic backups
Store your backup files off-site
Restore quickly
Customize Backup Contents
Downloadable Backup Zip Files
Instant Email Notifications
Move WordPress or Migrate WordPress
Serialized Data and Database Mass Text Replacement
WordPress Cron Manager
2. UpdraftPlus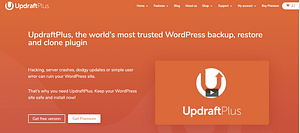 If you're looking some smart solution to prevent your site from Hacking, server crashes, dodgy updates or simple user error, besides BackupBuddy, UpdraftPlus is another one of the best WordPress Backup Solutions. it performs complete manual or scheduled backups your WordPress files including all databases, WordPress plugins, and themes.
Key features include:
Multi-site (i.e. WPMU/WordPress Network) compatible.
Proven to backup sites of 100GB
Backs up limitless non-WordPress files and external databases.
WP-CLI support and Incremental backups
Central place to store and manage backups including 1 gigabyte of free storage
And, a lot more!
3. BackUpWordPress
BackupWordPress is offered by XIBO Ltd and it is another great solution to prevent your WordPress site from hackers and malware. It is an open source WordPress Plugin with 200,000+ active installations.
Key features include:
Easy to use and requires less memory
Works in "shared host" environments.
Manage multiple schedules and uses zip and mysqldump
Works on Linux & Windows Server.
Exclude files and folders from your backups.
4. Duplicator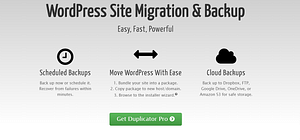 Duplicator is another WordPress backup solution offered by SnapCreek that provides a fast and reliable option to secure your site data.  You'll get surprised to know that more than 700,000 websites are showing their trust in it.
Key features include:
Easy to use and provides premium support
Multisite support and can overwrite live sites.
Large site support along with single file package
Large database support
Auto database creation
And, a lot more!
5. VaultPress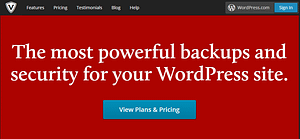 Another option that you can try is VaultPress. It provides a complete solution to make your site secure from hackers, Host failure, viruses, malware, and exploits. Moreover, it also allows you to sync your data daily as well as in real time.
Key features include:
Daily and Real-time Backups
Monitor VaultPress Activity in Realtime and Scan Your Entire Site
Restore Backups Automatically
Review & Fix Vulnerabilities
Download any Backup
6. BackWPup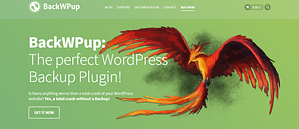 Now, let's move on to BackWPup, a WordPress Backup Plugin that doesn't let you feel sad in case your site gets crashed due to any reason.
Key features include:
Complete Automatic Restore and Database Backup
Standalone App for Emergency Restore
Encrypt Backup Archives and can Restore Encrypted Backups
WordPress XML-Export
Administration of Backup-Archive and log files
And, a lot more to explore!
7. WP All Backup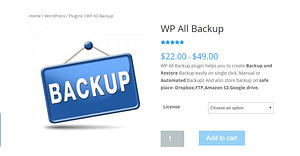 Let's move on to WP All Backup plugin.
It is designed to create and restore Backup easily using a single click. You can easily save your backup on a safe place like Amazon S3, Dropbox, Google Drive, FTP. A great solution to create a Backup of entire site including your Database, WordPress Core along with WordPress Themes & Plugins.
Key features include:
Migrate, copy or clone your site.
Manual and Auto-backup feature available
Create a backup on a single click
Backup Listing: Pagination
Multisite compatible and Exclude specific folders and files
FTP, Dropbox, Amazon S3, Google Drive integration
And, a lot more!
Words over to you
So, here I'm ending this list.
Explore the features of these WordPress Backup Solutions and secure your site from being hacked or from any other online security threat.