In modern times, all the business are becoming online mostly business have an online website. Directory WordPress themes are going more popular because of the possibility of using an infinite application. The theme can be adopted for the multipurpose. The directory platform usually seems as a monetizing opportunity. With the rich feature platform every easily you can manage and create your online directory website.  So, you don't need to go and search for another website. They listed the best directory WordPress theme that will help you to increase traffic and visibility of your website.
1) Listable-Directory WordPress Themes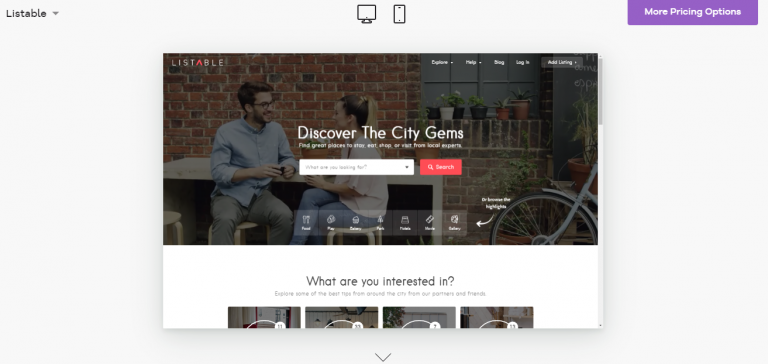 Listable is Directory WordPress Themes. It is simple and easy-to-use on the surface but its powerful listing cards system has everything you need to put your plan into action. Consider that each listing can be anything from a place or event to an activity(including services). Beautifully! Listable will never overwhelm you with the feature you won't use. For more functionalities, they are providing free plugins that you can install. It is a way to offer more without cluttering things for everyone. Go further and make money from your website! You can charge with a listing submission or take a fee from a reservation or services offered through your website. Choose one of the beautifully designed styles preset or create your own style by changing the fonts or colors, and everything will be reflected live back you allowing for better and faster decisions. 
Switch or add elements from the sidebar- the content of the single listing page layouts. Do you want the Map above the content? Just drag and drop, and the map will automatically adapt to the new layout. If you are seeming for advanced and modern filtering and search method for your listing, see no further as they have the explication. They have collaborated with Matt Gibbs, author of the FaceWP plugin(sold separately) to offer seamless integration with listable. This theme is compatible with the Gravity Forms, Visual Composer, Woocommerce and WPML. And this theme work on major browsers like Chrome, Safari, Firefox, Edge, Opera.
2) Listing Pro-Directory WordPress Themes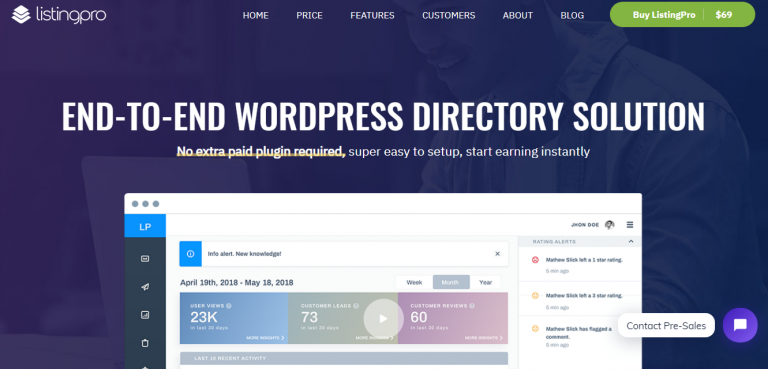 Listing Pro has become more powerful, more innovative and more stylish since the launch in April 2017. The best-selling WP Directory theme in the world got King-Kong size better. Only by closely listing to customers and critiques, and testing the limits of WordPress, and also not being afraid of making mistakes, listing pro remains the only industry-leader that continues to innovate and provide the most advanced directory solution on the market today. Listing pro is the most advanced, easiest, cost-effective WordPress directory theme on the planet. In just a few clicks you can get up, and running with the most advanced directory. Ready to personalize, populate and monetize. Taking the front-end submission (FES) to the next level. Enter a business name in the title, select the right business from the drop-down to fill-in the primary contact details using google maps API.
A state-of-the-art user interfaces for the dashboard. Carefully designed to do business with the most useful insights from a single pane of glass. Users can easily narrow the search results with price, open now, near me (distance radius) and feature (amenities). Now in 2. 0, the additional details (custom fields) can also be enabled for the filter. You can produce more leads with targeted ads to consumers searching for a particular tag(keyword), category or feature in a particular location with various placements to maximize the return on investments(ROI). This theme is 100% focus on the directory concept and making the experience intuitive and user-friendly. Highly recommend!
3) Wyzi-Directory WordPress Themes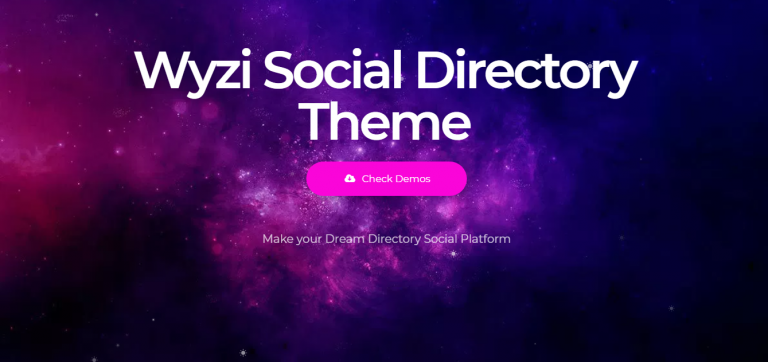 Wyzi is a fully responsive finder and service provider booking the WordPress look Directory listing theme. A business owner can share social posts updates on their listing pages from the front end. You can share text, images or also upload a video directly to your website. Business owners can submit their products from the front end and admin gets a commission on sales. This theme has amazing layouts. It is a matter of one-click to change between different layouts, and inside each template, there are different demos and page types. Each user has his/her front end Dashboard to manage his/her listing, profile create offers a subscription, apply to become a vendor, and much more. Simply everything business owner needs can be controlled from the front end.
Admin can remove, rename, reorder, make require or not required manage tabs any field of listing submission. For example, if you do not like Four tabs steps, you can make the theme one tab and a lot more! Admin can create as many subscription packages as needed with different layouts specifying what to more ups or not to more ups for each listing, also any page can be hidden and just more ups for subscribers. Subscription can be made by Stripe, PayPal, authorized Braintree, Two checkouts or CyberSource as available gateways. In case that is not enough and you want to use another gateway, then you can collect your subscription payments via any Woocommerce payment gateway and subscription packages can become normal Woocommerce products.
4) ListGo-Directory WordPress Themes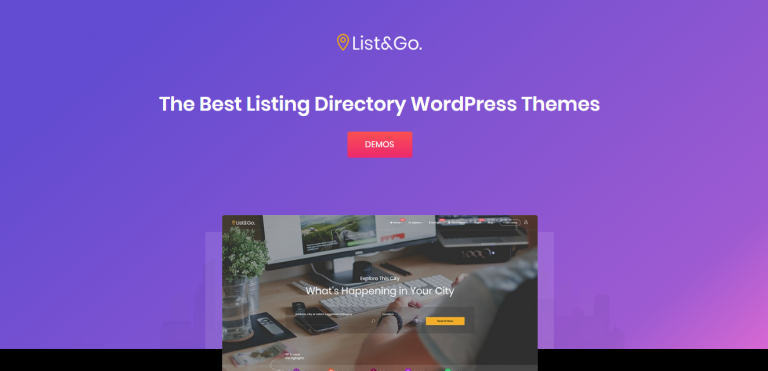 ListGo is the Best Directory WordPress theme for listing. You can create an association between the Woocommerce product and add listing/ add event plan. It means when customer purchases addon listing plan/ add event plan, he/she can pay via the woocommerce system. Apply coupon code: in ListGo you can generate the coupons code for your Add listing plans and events plans. It is a great way to offer a discount and rewards to your customers! Filtering Events by date: your visitors can now filter events occurring today, this week, the weekend, this month or next month. You can enable/disable this feature in a specified add listing plan. The owner of the listing can embed his/her own Facebook Messenger. The auto location by google has been integrated into this theme.
List search is getting smarter, the user will be able to see lists of useful quarries as they start typing in the search box. Not, only good functionality but also wonderful user-friendly on mobile devices. You don't need to manually add locations anymore. In List, your user can decide which city they had in mind. This theme comes with 16+ unique homepage demos you can import all the themes by using a "one-click demo install" feature. You can also use our elements to create your own demo. Your inbuilt mega menu is the perfect choice for large menus. You can also set up rows and columns. Use icons and select listing posts, categories, locations very easily. Automatically install all plugins and demos with just one click.
5) Superlist-Directory WordPress Themes
Superlist is an amazing and advancing directory WordPress theme for listing. This theme is a wonderful theme with so many features integrated. No need to buy additional premium plugins and the code quality is great. A wonderful job to the developers. This theme has a listing type manager feature that you can build any directory portal with the easy user interface. Front-end Submission will support your users publish their own listing and earn money. Its package system enables you to use advanced package permissions for user restriction. You can install and setup your website fast and easy in a single click. This theme has some predefined post types like coupons, events, hotels, pets, business, car, dating, food and drink, education, shopping, job, travels, property and you can use any of these predefined listing types or also create your own post.
This theme is fully responsive and looks great on any device like desktop, laptop, tablet, and mobile. There are various color variations that you can choose one of the prepared color palettes or you can create your own using Sass compiler.superlist is ready for translation to your languages. Just use a translation plugin or bundled. PO file. English. Pot files included and already translated into Spanish, Italian, French, Danish, and Slovak languages. This theme is compatible with WordPress Woocommerce theme. Superlist has theme compatible browsers like Opera, Chrome, Firefox, Safari, Edge. PHP File, CSS File, JS Files are included in this theme.
6) Javo Directory-Directory WordPress Themes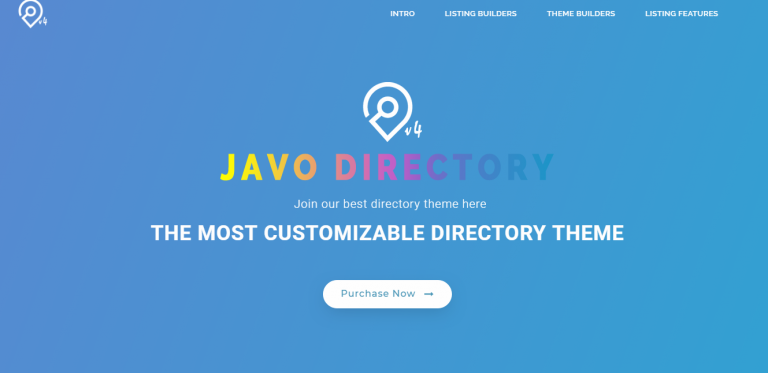 JAVO Directory is the most Customizable and advanced and easiest Directory WordPress theme. Javo theme is compatible with the Element or page builder. You can build your site by real-time live page builder. It is almost all you can control by live(real-time) builders. Most of the theme is fixed templates including our old themes. However, it is not fixed templates anymore. You can reorder, add, remove each feature. This theme has more than 100 pre-built templates, blocks, and java elements ones you imported you can modify or copy to other pages. They have rebuilt and added popular V3 pages to the V4 for the old user. New users can also use old pages. This is provided as a service with a theme. You can simply import all demos data by One-click import wizard. It just takes a few minutes. There is also a checklist after import. You will check all set by our checklist.
Java is a rich theme that has many options. However, there are add-ons for advanced options. Necessary and popular add-ons will be included by free coupons. You can easily customize by drag and drop. Change layouts, color Typho, meta and position of each section by drag and drop!you can customize the map page and change position of map and filters. List the first of the map first. Change module or map colors. You can simply add a block to any place you like. Listing block, post block, category block. Accept the page block widget to combine a block to the location you want. Even filter by categories or taxonomies.
7) Search & Go-Directory WordPress Themes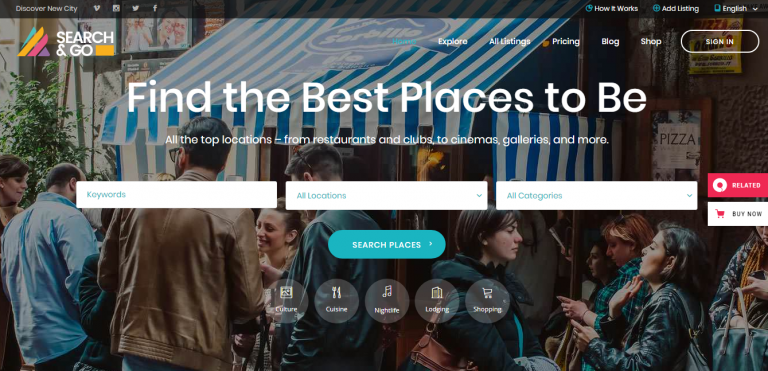 Search & Go is a powerful directory with a modern and sharp design style and no premium plugins are required. This theme has Advanced Search options that you can easily find the awesome location and use the powerful filter. Display listing locations on stylish and fully Customizable Google Maps. Easily customize the look of your maps, the web is full of google map style. Just grab the Jason code of any map you like and paste in the designated field. All the necessary information about each location listed in one place. There is a centralized place for users to manage their profile and all listings. The dashboard provides users with all the options they need in a simple and logically organized environment. The login widgets let you easily create a stylish login and registration form.
You can connect with the social networks and lets users log in to your directory website via their Facebook and Google+ accounts. There is a user wish-list, and claim listing feature that you can be claiming the listing and adding great locations at your wishlist has never been easier. You can create your own specifications and amenities for each type of listing. This theme has collection for the beautiful elements, everything that you need to make an awesome directory website. You can keep your users up to date with all your latest news and offers with the support of the stunning Masonry Blog list feature. This theme has compatible browsers like Chore, Safari, Opera, Firefox and compatible with the Woocommerece, WOBakery page builder, WPML.
8) Javo Spot-Multi Purpose Directory WordPress Themes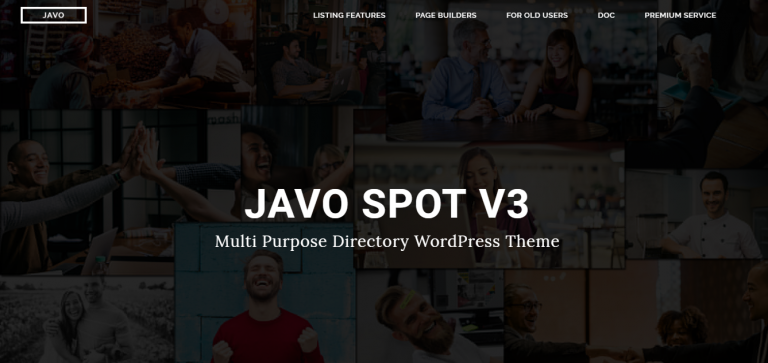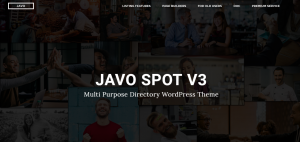 Javo Spot is a multipurpose Directory WP theme. Its Map Page Builders is free to build or modify map and list pages by Elementos page builder. It provides live drag and drops feature. You can make the listing detail page for each section with the support of the listing page builder. It is possible to change order, color, layouts. You just need to add what you want and add what you need first. With the help of drag and drop page builder, you can build or customize listing modules as you want each module meta(title, category, location, image, etc..) are ready to be placed. You can build your own header or customize it. They provide header widgets such as logo, menu, button, images. You can add them where you want and also build your own footer.
ou can add logos, images, social links, and also some lists such as posts, listings by our post block widgets. You can see the installation wizard as soon as you activate the theme. You can install all required plug-ins with one click, and one you can easily install demo data with one click. With the advance, Ajax search customers can easily find their desired group, members, and post. If you are creating a top-level-site. You will need to add various contents to the menu. You can make this menu without plugins. you can spill the menu into columns and put a background on the menu. You can apply your website to all the latest devices and have a fully responsive design.
9) Listop-Listing Directory WordPress Themes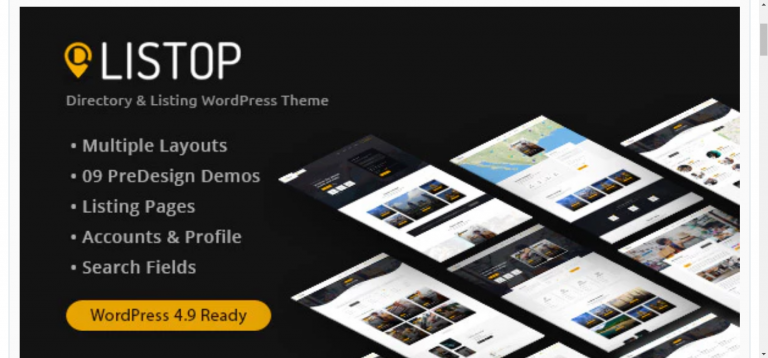 Listop is advance, modern and user-friendly directory WP theme. This theme made for the local listing, local business directory, online business directory and all kinds of directory services. You can create a powerful listing website with the help of the Listop's three stunning, and fully Customizable homepage Layouts. All designs are included in that package and can be installed with a single click. The listop has a responsive layout, each and every element including the Awesome Google map. This theme provided outstanding support. Install the theme, press the "import Button" and you got an installation like the one they use in our Listop theme demo. With the help of the advanced page, builder listop comes packaged with a highly tailored version of visual composer. Enjoy building the gorgeous pages.
All items can be easily displayed by categories or customs pins, the pins are highly Customizable. The listop theme allows users to filter the item by location and category through advanced search filtering. Businesses care about what people saying about time. There is a rating system that allows the user to rate your items. They used SEO optimized tools, and They use heading tags for titles which are good practices for search engine sites. Listop got a smart color picker which allows you to stylize your website, it also allows you to pick your preferred colors.
Conclusion
They have listed the top directory WordPress theme for listing. They noticed, and they notice that every online business needs to the listing they have so many services, and how they manage all the things so they have prepared the list of the themes. With the help of the directory WordPress theme, you can manage your thing and arrange all the services and products in a manner. There are so many directory WordPress themes that are available, but all are not best for your website so need the best theme that increases your website visibility, so they listed some best directory WordPress theme for the listing. These themes will save you time, and you can earn more money. All the themes have great features and attractive designs, and all are totally responsive and perform very well. All the themes have the best customer support for yours.