A better domain name can help build your brand image
The domain name should be picked wisely
The domain name for your websites should be picked wisely as it can make or break the progress of your website. Better planning should be done before jumping to the conclusion. You can discuss it with your team or an expert having the proper knowledge to complete this task. Having a domain name for your website is essential to build your brand image. Whether you want it or not, without one you can't move to the next step for making your site popular.
A perfect plan will help to achieve your dreams making your brand popular and quite famous.
You can select or view some sets of a domain name for choosing a better one for your website. You need to select a domain name that is relative to the nature of the business or even area of business. There are many sites and professionally ready to help people like you to ease this pressure of choosing the best domain name for your website. Commercial activities can only be carried online when you have a better site with a unique domain name.
Best Domain Hosting Services Of 2019
How to choose a domain name for your business website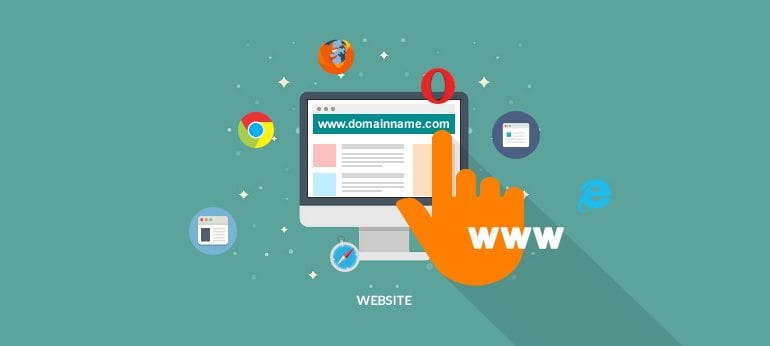 Chase .com: you need to select .com domain which is quite common and is easier. There are other options available which you can select such as .net, org, biz, etc. You need to select the .com extension as it is the right choice and that is because of two reasons:
It is easier and can be remembered by people while surfing the internet. While browsing people are in the habit of entering .com extension or their browser will automatically insert .com extension-making their surfing simple and quite easier. Generally, people believe that .com is the only extension that is available on the internet. Go after it.
Around 48% of websites use this .com extension clearing the fact that it won't be a mistake but would prove to be the best decision taken by you.
If by any means this extension is already taken by another website than you might end up thinking about this extension or would offer a price to buy it from the actual owner. This fact is true as now already several websites have picked this extension because of its advantages for their website.
10 Renowned Domain Hosting and Registration Services
For a while forget about .com extension: you indeed have to forget about picking this extension as if your area of business or nature of business is different, try leaving this extension far back. If your business is operating in a local market or a country such as India then you should try out addresses such as business.co.in helping your users understand your area of business as well as the nature of business. You can also attach an external link to your local domain name which will direct your users to your website in the meantime.
Try non-traditional TLDs: You can now easily find out TLDs that were unavailable earlier. You can pick any domain extensions such as blog or design easily. You can select any one of them to carry on your business activities on a local and global level. You can choose an extension that can boost your brand awareness and let people get a clear idea about your nature of business.
Think about purchasing other TLDs: You have to pick some extensions which can direct the visitors to your website instantly. Despite having .com extension with you, it is necessary to pick other extensions as well such as co, .in, .net, etc. For example, if your website address is highfive.com then you must try picking extensions like high five.co or high five.cc etc. This way your approach will expand attracting more visitors to your website instantly. No matter what is the extension you have picked, it is sure that the visitors will land on your website in the end.
way, you can have a stronghold over competition level and not letting your competitors copy the domain name which you are currently using. Things which you don't want to happen would be:
People who are creating sites similar to your site but in reality, they aren't and visitors getting confused because of the presence of too many TLDs.
Picking a unique name: you need to pick a unique domain name. It should be in a way that it cannot be taken by anyone because it would be useless to do so. Google and YouTube have no meanings but are unique and these names cannot be taken but anyone and has a stronghold in the market. These types of name can be easily recalled and are very easy to pronounce.
Make it short, easy and predictable: for better approach and stronghold over visitors, you need to keep the name short and very easy so that people can recall it easily. It should be predictable and shouldn't be in a way that people may end up mistyping it every time. Keeping it short and simple having no hyphens or underscores. You should always keep the numbers out of the league and use words instead. If not possible then make it simple and add a digit not more than that. Keep these factors in mind for better results.
Decide but with perfect planning
Always try to pick a domain name for your unique business site. For the fighting competition, you need to be different from your competitors. Do not let them take away your domain name and carry out their activities. Try researching the market for a better source of information based on choosing a domain name for your site. Do not rush and think patiently sparing time on deciding a domain name. People should have a clear idea about your business activities and that is only possible when you keep your domain name short, simple and easily predictable. Try it now and become successful.